Optimistic Owls
Michail Antonio talks business, managerial stability and all things Sheff Wed with Chris Burton.
Last Updated: 27/05/13 11:01am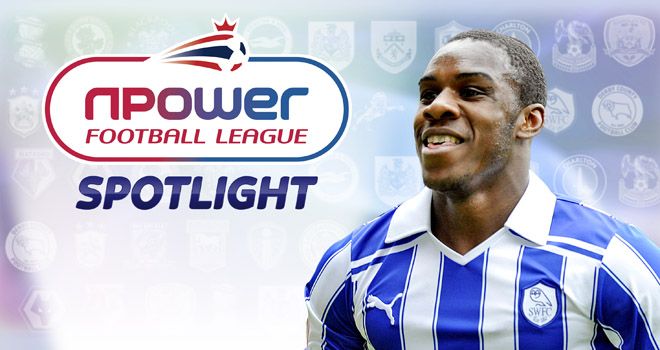 The 2012/13 campaign is now well under way, with divisions beginning to take shape.
Here at Sky Sports we will look to take you to the very heart of the Football League over the coming months, with our Spotlight features intended to give you a greater insight into the clubs and players that keep us on the edge of our seats.
We hope to bring you the views and thoughts of a representative from each of the 72 teams over the course of the season, with those involved asked to give their take on the division they compete in, the club that pays their wages and those we should all be keeping an eye on.
Sheffield Wednesday's Michail Antonio is next in the hot-seat, with the Owls winger taking time out to discuss adjusting to life in the Championship and the need to maintain stability with Chris Burton.
How would you sum up Wednesday's start to the season? It's been a bit up and down hasn't it?
It's been quite up and down. The start to the season was fine, then a couple of results haven't gone our way. We are starting to pick up now. Even though we have lost the last two games, we didn't play that badly. I reckon that we are on our way back to good form.
Can the inconsistencies be put down to adjusting to life back in the Championship following promotion last season?
Definitely. At the beginning of the season everything was going our way. That could have been because we were still on a high from getting promoted, then reality hit us and it hit us with eight games. We just had to get used to the league. There is a big jump between League One and the Championship and we had to get to grips with it.
If you look at the sides you have lost against, most of them are up there or were relegated from the Premier League last season, so it's not that you're losing to bad teams is it?
Definitely not. That is something - every team we have lost to are in the top half, or the top six. All the other teams we have drawn with or beaten. We can't say that we are doing that badly, but even though they are in the top six, we've got to beat them. I reckon we have got a good enough team to beat them.
What was the ambition heading into the season? You have to be sensible don't you during a first season in a new division?
It's like business. First year at any level, you want to break even. As long as you stay in the league you should be happy. From there, you push on. From there, like in business, you want to make some money. As long as you broke even in the first year, you then want to push on for years to come. Looking for promotion in your first year in the Championship, I wouldn't say it's impossible, but it's a high hope and it's very difficult to push for promotion when you have just come up from League One and you have been down in the lower levels for quite a long while. If we do manage to get promoted, quality, but right now all we are trying to do is stay in the league and get as high as we can.
You aren't out of the promotion picture yet are you, there is a bit of a gap to Birmingham but above that there are 13 teams separated by five points?
There is not a big gap at all. My experience last season when I was at Reading, they were 18th until November and they managed to finish the season top. So anything can happen. The Championship is an unpredictable league, I would say it's the most unpredictable league there is. Anything can happen at any time. A team can be on a high, like Middlesbrough at the moment who are towards the top of the table, they could drop down and get relegated. It's early in November, we're only two months in and anything could happen.
Do you feel that stability could play into Wednesday's hands, given how many managerial changes there have already been this season?
Definitely. I believe in Dave Jones. He is a quality manager. He has been in the Championship for a long time, I think this is his 10th season managing a Championship team. Right now, I don't believe there would be anyone else better than Dave Jones for this club. I don't believe we are doing that badly. We have managed to lose eight or nine games and we're still not in the bottom three. Right now, I believe Dave Jones is the manager for us and I believe, even though there is no talk of him getting the sack, that there shouldn't be any talk about him getting the sack. He is the right person for us right now.
I take it Dave Jones played a big part in your decision to join Wednesday full-time over the summer?
Yes, he did. I enjoyed my time at Reading, it taught me a lot. They signed me from non-league and shaped me into the player that I am. I'm happy to be playing week in, week out now and I wish Reading the best of luck.
Was it an easy decision given how successful your loan spell at Wednesday was last season, when you were playing regularly and scoring goals?
Definitely. Going on loan there last season and doing so well, the fans showed so much love and showed me that this is the club for me. It showed me that I have done it here already, so trying to do it again shouldn't be that difficult.
Did you feel you had to make a move for the sake of your career, rather than just be happy sitting on the bench at a Premier League club?
Exactly. Saying that you are at a Premier League club is good for your CV. Just to say I am a Premier League player at a Premier League club sitting on the bench you get to go and see all the great stadiums like Manchester City's ground, the Emirates, Old Trafford, but then sitting on the bench shows your ability. Sitting on the bench, all you can say is that you are at a Premier League club, you can't show what you can do. Managers are not going to see you and you have got no say. The best way to show yourself is playing games, and that's what I came to Sheffield Wednesday to do. For the four years that I was at Reading, I think I stayed there for one whole season. I have been out on loan to Southampton, Colchester, Cheltenham and when I first signed I went back on loan to Tooting & Mitcham. I've been around in the four years that I have been pro.
You have taken in quite a few loan spells to get to where you are, do you feel they are the way to go?
Definitely. If you're not getting regular games and you don't see yourself getting regular games, you need to get out and show your talent. If one manager won't see the talent in you, another manager will. That's the best way to get yourself out there. When I first went out on loan when I was 18, at the time I wasn't really doing that well at Reading and I went to Southampton and did quite well. They saw what I could do in training and what I could do in matches and they had belief. From there, that's when I got my first real pro contract, from my Southampton days. I believe that from a young lad's points of view, if you aren't getting games at the club you are at you should go out and get games and show the manager what you can do in actual matches.
Finally, while you're hoping Wednesday are going to enjoy a productive season, who else has impressed you so far?
Middlesbrough, Blackpool and Huddersfield - those three clubs did impress me. They play very good football, they popped it around nicely and kept the ball on the ground. They are three teams that we lost against and they did very well. But we had opportunities that we didn't take and that's why we lost, but they did play very good football.