Brits abroad - Lee Payne
Continuing our Brits abroad series in which we speak to players and coaches to get the lowdown on their time overseas, Adam Bate talks to Lee Payne about becoming a hero at Veendam in Holland.
By Adam Bate - Follow me @GhostGoal
Last Updated: 03/12/12 4:50pm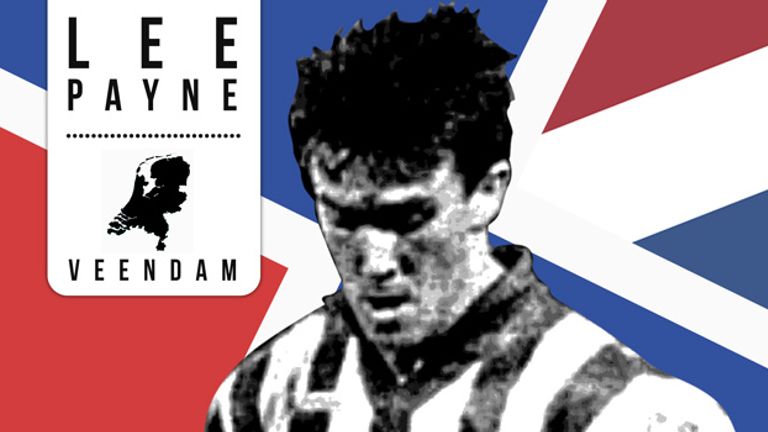 Lee Payne took a leap into the unknown in 1990 when he left Reading to join Veendam in the Eerste Divisie in Holland. He ended up staying in the country for a decade and the move even led to a career as a football agent. Adam Bate caught up with him to discuss his Dutch adventure.
How did the move to Holland come about?
Ian Porterfield was the manager at the time. He called me in and he said, 'We've had an offer for you from a Dutch club'. What I think it was is that during the winter break in Holland some of the officials from Veendam came to the London area and watched a few games. They came down to Elm Park and saw me play. I was an old-fashioned left-winger and I think they thought I'd suit the way they used to play in Holland.
Big decision?
I took about a week to think about it and I decided to go. I was 24 and I thought it'd be a great challenge for me. There was a player I played with at Newcastle called Rob McDonald (who was already at Veendam) and I contacted him to ask what he thought. He told me they were a very tidy club, they look after you and maybe you can make a big name for yourself out in Holland with the way you play.
The thing was they were trying to bring in the wing-backs at that time (in England). In 1990 they were trying to get wingers to play like full-backs and I was an out-and-out left-winger. I thought to myself that if I went to Holland I might get the chance to play the way I wanted to play.
First impressions?
I arrived at the airport in Amsterdam and the chairman had hired a small plane to fly in to Groningen. That was the first day - you never forget days like that. I felt at home straight away because of the way the Dutch play football. They pass it from the back and the keepers hardly ever kick it from their hands - they pass it to the full-back.
Everybody in the first few weeks spoke to me in English. They all wanted to show me how well they could speak English. But I noticed that as soon as the season started all that stopped and they were shouting at me in Dutch. So it wasn't long before I realised that if I really wanted to make this a proper move I'd have to learn the language. Within about 18 months I could speak fluent Dutch and I was shouting and swearing back at them.
So you think that helped on the field as well as off it?
Definitely. It isn't Amsterdam or Rotterdam. People in the north didn't speak that much English. So when I could communicate properly I could go on the radio and make myself known. And I think they felt a lot of respect for me because they thought, 'He's come over here and tried to settle in and learn the language'. It's not an easy language to learn. It's a difficult language. But I was determined. I was fed up of people shouting at me on the pitch and I couldn't respond! I think for any player going abroad the quicker you can pick the language up the better.
How about tactics? You often hear that the Dutch players question why they are being asked to do things...
They are very opinionated. I had a few problems at the beginning with some of the players because the English probably play more as a team. The Dutch sometimes play as individuals.
But you did well out there didn't you?
The first year at Veendam was a sensational year for me really. At the end of that season I was almost transferred to PSV. And Roda JC made an offer of £400,000. I think I'd played 32 games that season and scored 12 goals from left wing. So it was almost going to plan.
Unfortunately in the last game of the season against Excelsior I got a very bad injury in my groin and was operated on in London. I think that triggered a lot of the problems I had then for the next four years. I was forever having surgery on my knee and that was where it didn't really take off for me. If the groin injury hadn't happened I may have gone on to be a big name for a big club out there.
You're still well thought of out there though?
To give you an idea, I was invited back there two years ago by the fans. When I got to the stadium they had a massive banner behind the goal saying, 'Welcome back Lee'. They presented me with a trophy on the pitch as their best ever foreign player. And the supporters' player of the year award is called the Lee Payne trophy!
They ended up selling me to their biggest rivals Emmen for about £300,000 and I signed a three-year contract. At the end of those three years they actually brought me back to Veendam. They took me back on one leg! And to have named the trophy after me is a real honour.
It was just a brilliant experience. I had two years playing for the amateurs out there after finishing my professional career and that was probably the equivalent of the Conference in England. I became almost like a Dutchman.
That must have helped because a lot of British people say it gets tough abroad when you're injured...
It was a really tough period, I've got to be honest. Having the injury and being away from friends and family, it really strengthens you mentally. It's dealing with the time - the days become weeks and the weeks become months. But I went in 1990 and I didn't finish in Holland until 1999. I became the first non-Dutch licenced football agent in Holland and began negotiating contracts in Dutch with Dutch players for the next couple of years before moving back to England.
And you were a scout as well as an agent weren't you?
Probably before I was an agent, to be honest. I played against Ruud van Nistelrooy when he was at FC Den Bosch. I played against Pierre van Hooijdonk when he was at RBC. One of the funniest stories was when I played against FC Zwolle. The full-back that day looked more like a centre-half. I had a real ding-dong with him - he was a real strong kid. I remember talking to John Rudge, the manager of Port Vale at the time, and he came out to watch us. He asked me if there was anybody in the division I'd played against who could make it in England. I told him the full-back I'd played against at Zwolle was a man mountain and he was quick. He asked me what his name was and I told him: Jaap Stam. And he never did anything!
There was a teenager at Veendam who I thought could definitely play in England and I told him so. He said if I could get him to England then he'd be interested. So I contacted Frank Clark who was at Manchester City at the time and told him there was a young boy who he had to have a look at. His name was Gerard Wiekens and he went on to captain Manchester City.
Then there was Glenn Roeder who I played with at Newcastle. He became a coach at West Ham. Out of the blue he called me and said, 'West Ham have drawn Heerenveen in Europe and we haven't got a clue how they play. Would you have a chat with Harry Redknapp and Frank Lampard (senior) so they can find out how they play?' I told them how Heerenveen would play and about their striker Ruud van Nistelrooy and, after West Ham beat them 1-0, Harry wanted another chat.
He was so impressed that he offered me the chance to scout for West Ham out in Holland. That was where it all started for me. I had a year for Harry identifying players. I found Jussi Jaaskelainen playing in Finland and Harry said he didn't have a problem if I placed him somewhere else (at Bolton). So I had a really flying start finding Wiekens and Jaaskelainen in the first year.
So moving to Holland and embracing the lifestyle was the key to everything for you really?
Absolutely. There were a few English lads who came out at a similar time and not many of them lasted very long. You need to be open-minded and you need to be able to have a feel for other cultures. If you want to go out there and keep your English television, your food and your drinking habits the same then it's going to fail.
You have to have respect for the culture. It's the same with the players who come here. For instance, if you look at (Sergio) Aguero it's clear he respects England. (Gianfranco) Zola and people like that. They come here and they accept the tradition and the way we do things and then they have great careers out here.
And I wanted to go out there and have a career. I wasn't looking for a quick year out there. I thought if I was going to go then I am going to go and make a career and make a life for myself. While it didn't quite happen for me on the pitch, it did set me on the road. I've been an agent for 16 or 17 years and I've been successful. I don't think I'd have had that if I hadn't moved to Holland.