Sky Sports Scout - Ben Nugent
Sky Sports Scout is where we scour the globe looking for the best talent. Next up is Ben Nugent.
By Sky Sports Scout - Tweet me: @skysportscout
Last Updated: 21/05/14 11:36am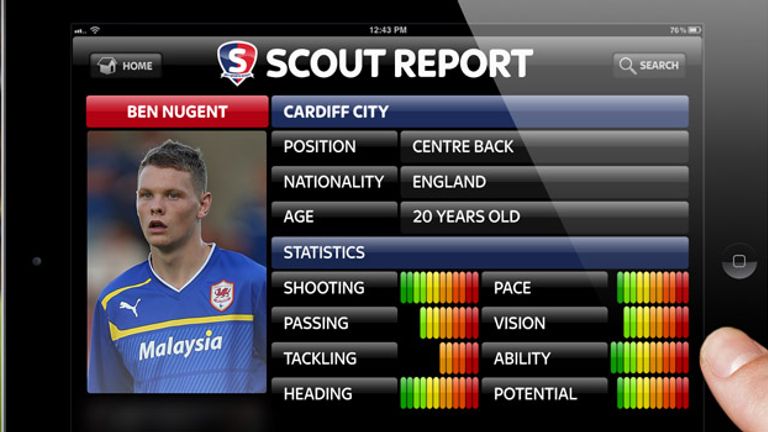 Sky Sports Scout is our exciting feature where we scour the globe looking out for the best talent and bring you a report on what we find.
Our Scout will report back and you can comment on what you think of our appraisal.
Also, in association with Football Manager, we give all readers the chance to win a copy of the latest game by nominating a player.
You can only nominate a player by emailing here, including the word 'Scout' in your subject line and please check to make sure we have not already covered the player.
Should your player get reviewed by our scout, and you were first to send in his name, then you will win a copy of Football Manager 2013.
You can also now interact with the scout via his all new Twitter feed! You can get in touch with him and interact here or just search for @skysportsscout!
Latest under our scout's gaze is Cardiff City's Ben Nugent
The scout reports...
We cast our eyes over Cardiff defender Ben Nugent, who is making headlines this season after making his debut for the Championship promotion chasers.
Nugent has come to the fore this season after coming through the youth ranks at Cardiff, although his transition to the first team has been a more unusual one.
An excellent all-round athlete, Nugent opted for football after attending the famed Millfield School on a sports scholarship and he was not spotted until his early teens when he joined Cardiff aged 15.
Then, despite making good progress, his development stalled due to growing pains as he gained six inches in just 18 months, which contributed to a number of niggles.
This meant that Cardiff decided to release him at the age of 17, although because of his ability the Bluebirds kept a close eye on him and former Acacemy chief Neal Ardley invited him back for regular training sessions whilst he also played for Western Premier League club Street FC.
He was brought back into the fold by Cardiff and, in the summer of 2012, had proved himself enough to earn a professional deal.
His progress saw him make his senior debut against Northampton in the League Cup and he was soon in league action.
Nugent has made remarkable strides in a short space of time and Malky Mackay has already labelled him as a future Cardiff captain.
Nugent is an imposing figure, but the first thing you notice is how composed he is for someone with relatively little experience.
Tough in the tackle and standing at 6ft 4in, he is capable of dominating in the air.
The scout says...
Cardiff have discovered a real gem, but fair play to their youth system for keeping tabs on him.
Nugent has come from nowhere and is suddenly at the heart of the promotion favourites but, as with many Bluebirds youngsters, they could face a battle to keep him.
The Scout rating...
Shooting: 6 out of 10
Passing: 7 out of 10
Tackling: 7 out of 10
Heading: 8 out of 10
Pace: 7 out of 10
Vision: 7 out of 10
Current ability: 7 out of 10
Potential ability: 10 out of 10
OVERALL SCOUT RATING:59/80
Current value: £2million
Potential value: £30million
Your opinion...
You have read our opinion of Ben Nugent - now we want your views. Have you seen Nugent in action? Do you agree with our assessment? Do you think he will make it?
Get in touch, either using the form below, email or the scout's Twitter feed - @skysportsscout
And if you have spotted anyone you think we should feature then please get in touch using the same form. We will look to send out the Scout to follow up your leads.