Messi's bubble burst
Those in Real Madrid's camp might do well to concentrate on their failing campaign, but some are still trying to take the gloss off Leo Messi's extraordinary feats, writes Tim Stannard.
By Tim Stannard
Last Updated: 14/12/12 4:50pm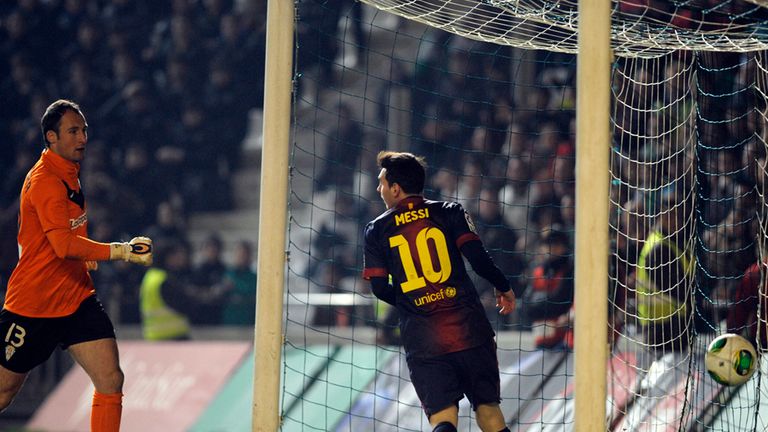 If Real Madrid fans are wondering why there doesn't seem to be the funds in the kitty to give Cristiano Ronaldo a bit of a pay rise and a new contract, then the supporters may want to know if the club hasn't been pouring money in a secret projects department.
It would seem completely understandable if Florentino Pérez was spending every cent the club had in trying to send an emotionless android back to Argentina in 1986 to try and prevent Leo Messi's parents from ever hooking up, such is the impact that the Barça player has had and is continuing to have at the Catalan club, more often than not at the expense of Real Madrid's success.
As changing history in such a dramatic fashion hasn't been achieved as yet, with Messi continuing to exist in a very real sense with four more goals this week - in victories against Betis in la Liga and Córdoba in the Copa del Rey - to see the forward breaking the record for most goals in a calendar year, some papers based in the capital city have been doing some of their own history-dabbling to bring the Barça player down a peg or two.
A campaign against the marvellous numbers being racked up by Messi in his pursuit of Gerd Müller's record was begun by Marca, which refused to acknowledge the Barça man's first goal in a 5-1 win against Athletic Bilbao, calling it an own-goal instead, a difference of opinion from the official decision by the referee. Realising that it was going to look sillier than already it already did when Messi broke the German's record, Marca decided to remove one of Müller's goals for West Germany against the USSR, claiming it was an own goal by the 'keeper, which had Marca reporting ahead of last weekend's Betis clash that Messi on 83 was chasing a record of 84, one less than everyone else was saying.
The historic tally was duly smashed with Marca still standing by its guns and parallel version of history, which may end up with England having the 1966 World Cup being taken away from it.
AS though have gone one better by enthusiastically jumping onboard a campaign - complete with t-shirts - claiming that Müller's record for most number of goals in a calendar year wasn't a valid one in the first place. This tally is instead held by Zambian footballer, Godfrey Chitalu, who apparently scored a whopping 107 in official games back in 1972 but died in a plane crash in 1993 at the age of 45.
The Zambian FA has called on FIFA to make Chitalu's record an official one but the global organisation says that it is unable to authenticate any goal scored at club level unless it is in a competition it organises itself.
Rather than a search for historical accuracy, both moves by Marca and AS seem rather mean-spirited in their attempt to take away the gloss from what was a remarkable feat by an incredible player who still has two more matches to further add to that tally, the first being Sunday's top versus second clash against Atlético Madrid.
"It's laughable, and forms part of frikipedia," writes Manolo Crespo, in Barcelona-based 'Sport'. "There are things that should be worrying them in the capital, more than the obsession with Messi, such as being 11 points behind Barça and playing worse than last year."
The only question really into the motivation of both papers is whether such a sudden interest in football history would have been piqued if it was Cristiano Ronaldo breaking goal-scoring records, rather than Leo Messi. The answer is probably not.