Cup Dreams
Graeme Bailey chats exclusively with Barnsley boss Dave Flitcroft ahead of their FA Cup quarter-final clash with Manchester City.
Last Updated: 08/03/13 1:39pm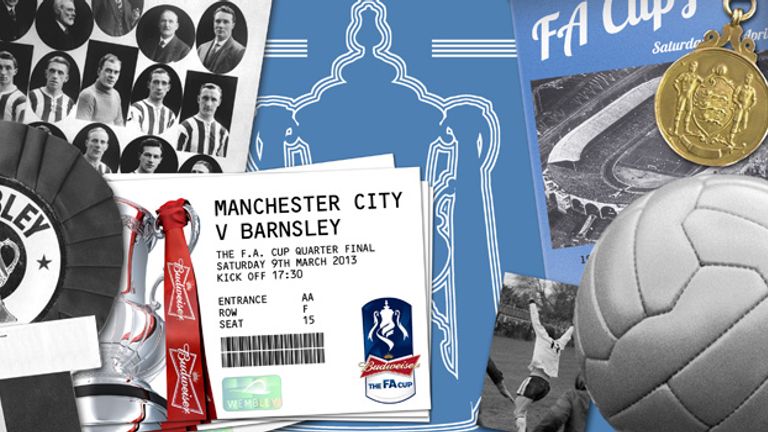 Championship side Barnsley face a daunting task on Saturday as they travel to Premier League champions Manchester City for their FA Cup quarter-final clash.
The Tykes have fought their way through to the last eight at the same time as battling against the drop to League One.
Speaking exclusively to Sky Sports in our latest Cup Dreams, Barnsley boss Dave Flitcroft insists that he does not want the word 'distraction' used in relation to their cup run.
"I would not use the word distraction at all, the league is what we are all about but what it has done in a relentless league programme, is help us," he said.
"You go away from a week and then come back into the league - when we have played a cup game we have won our next league game so it is no distraction at all and I won't use that word. It has been an adventure and that is what we have been on and that will continue on Saturday."
Flitcroft is hopeful his side can do themselves justice at the Etihad Stadium.
"We just want to give a good account of ourselves, as people, as players - and that is what we are planning to do," he said.
"We don't want to let anyone down, there are 6,000 fans coming over, we don't want to let them down, and the lads don't want to let themselves down and it is important we put in a performance as individuals and as a team, and that is what we are working to try and do. We have individual goals, team goals and team targets and we are going to have to be at our very, very best to compete with some of the best players that the country has to offer."
The only issue Flitcroft and many teams have at the moment is the amount of games that are coming around at this time of year.
"We are resting their legs, they try and fit too many games in and the season is not long enough and could be stretched another two weeks," he insisted.
"Championship teams invariably will win two or three games so that is another two or three to fit in, so it really is a Tuesday-Saturday schedule - and you just don't have enough boys to cover when you're working with a small budget and it can really stretch you, add a couple of injuries in and you're at full stretch and so it is relentless.
"You can't plan for all the games and you have to take it head on, and I think it is the most relentless league in Europe, what a Championship game takes out of you is incredible."
Cup magic
The Tykes chief remains a huge fan of the FA Cup and he is delighted to have got Barnsley to this stage.
"We have beaten good clubs so we deserve to be here, Burnley - who were flying at the time, Hull - who were also flying - and then MK Dons who beat QPR, so it is not like we have took two or three lesser teams, we have earned our right to be in this competition."
Flitcroft is a huge fan of the FA Cup and still thinks it ranks amongst the best in the world.
"Personally I got to fifth round with Rochdale, it is a tournament I love - it is incredible. When you're in football as a player you might get 15 shots at it, and now I have extended that FA Cup dream with being in coaching."
Away from Barnsley and Flitcroft amazingly finds time to work on his own grassroots academy Strikerz - and he admits that even with those youngsters the magic of the cup is present.
"I think the cup is entrenched in football, I have got my own club Strikerz, and I am massively into grassroots football and I am trying to improve it at that level, and the kids I work with day in and day out, I tell them that at 5, 6, 7, 8 up to 12 that the FA Cup is important and they love it.
"They know what a big cup it is - it is an Englishman's cup, they believe in it - they believe an Englishman can get there and play at Wembley - we were brought up on the twin towers and now it is the arch and it is what dreams are made of, I love it and the prestige of it."
As well as his love for grassroots, the name Flitcroft remains synonymous with Manchester City - after his brother Garry starred for the club in the 1990s, and Dave admits City is integral to his family.
"Man City was a club that, even though I was Bolton fan, I spent a lot of time at," he said.
"I started there as a junior and then I went to Preston but our Gaz stayed and became a catalyst for what they were doing at the time, and there was nobody better at bringing through young talent and he was the heartbeat at the time.
"When they went down to the lower levels the fans stayed with them and now I think they have an owner that the City fans have always deserved, someone who could take them on an adventure they have been on in the last few years."
Flitcroft himself is on his own new adventure, having only taken charge of Barnsley less than two months ago.
He admits he did not envisage being at the helm in this situation but he has taken to the role well.
"It was the job that I should not have got, happy accident and I am enjoying it," he admitted.
"Your life experiences build you to a point, if you're ready you're ready, if you're not, you're not - I think if you're not you will fail but if your life experiences have given you a decent pathway then you will cope. "
Flitcroft feels his schooling in the lower leagues has helped him get to this point.
"As a lower league player that I was, you get more stick and you develop a rhino skin, you are not shielded or protected when you're in the Premier League or Championship - it is a real cold calculating world, and there are some brilliant characters down there and if you have not got thick skin - you would not survive, so my life experiences have brought me to this point," he said.
"I have done a lot of coaching with kids. I was an enthusiastic, aggressive player but working with the kids has helped me find out who I am as a coach and I have had a lot of experiences in my life which has led me to this point and helped me cope."