Sky Sports pundits pick their greatest European Cup moments
Ahead of Saturday's Champions League Final, live on Sky Sports, we asked our pundits from football and a variety of other sports to select their ultimate European Cup memories...
Last Updated: 23/05/13 12:02pm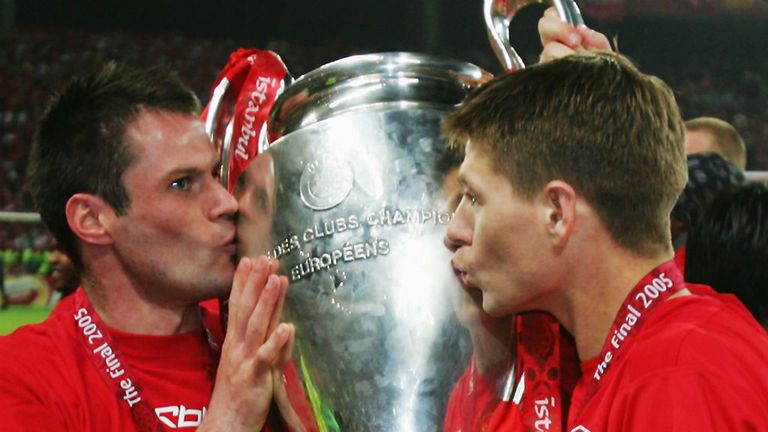 It's got to be 1967, when Celtic became the first British team to win the competition. We outplayed Inter Milan, who everyone had tipped to beat us quite easily. I was six years of age and I'll never forget it because it was such a unique moment, one of those 'where were you' moments. I was sitting in the house with my mum - my dad was in the pub with his pals - with pie and beans and a glass of Irn Bru, watching Billy McNeill lift the European Cup. Two nights later I actually went to the parade at Celtic Park with my dad.
Rob Lee (Sky Sports Golf) - Manchester United seal the treble
It would have to be Ole Gunnar Solskjaer's added-time winner for Man United against Bayern Munich in 1999. I was perched on a seat near the halfway line at the Camp Nou and when Teddy Sheringham equalised, I turned to my mate and said: 'I can see us winning this'. Seconds later, United got a corner and bang it was 2-1. We went from total dejection to total elation in a few seconds, and then strolled into the corporate are and made a nuisance of ourselves afterwards until about 3 o'clock in the morning!
Bumble (Sky Sports Cricket) - Di Stefano and the 1950's legends of Real Madrid
I go back to the days of watching Alfredo Di Stefano and Ferenc Puskas playing for Real Madrid in black and white. It was only a couple of cameras back then, but I had the Real Madrid kit as a youngster and liked to pretend to be a deep-lying centre-forward like Di Stefano. Nowadays they call it playing just behind the front man and in those days you weren't able to find him. I was more like Puskas though to be honest because he could only kick with one leg (but he was brilliant). They were brilliant though that team; Francisco Gento, Hector Rial, Juan Alonso, Juan Santisteban, Marquitos, José María Zárraga, Rafael Lesmes... what a team! In fact, Di Stefano has been in the limelight recently because he's 86 and has just hitched up with a girl in her thirties. His family are trying to put a block on it, but it seems there's life in the old dog yet!
Paul Merson (Soccer Saturday) - The miracle of Istanbul
I'm a Chelsea fan but I have to go for Liverpool in 2005. To come back from 3-0 down against a top team like AC Milan was a miracle. I remember sitting at home the day before I was about to go on holiday and I was cringing for the Liverpool players at half-time; it could have been any score you wanted, so to come back and win it was a miracle.
If you were to read that story in a book you'd throw it away and say it couldn't happen. Steven Gerrard has always been the driving force at Liverpool and he's one of my favourite players, but it's hard to single one player out. You have to credit all of them. They'd have spoken at half-time about winning the second half and if they'd won it 1-0 then you could have said 'well done'. It really was a miracle.
Rod Harrington (Sky Sports Darts) - United's 1968 triumph
I was an avid Man United supporter as a young man and I will never forget the 1968 European Cup Final. We all adored George Best and that final will always stick in my mind. Best scored in extra-time when he beat the last defender and slotted it in and then Bobby Charlton scored and Brian Kidd scored on his birthday. Charlton and Nobby Stiles followed up what they did with England in 1966 with this game and it was a truly great side. I still support United now, but I couldn't name their team nowadays - but I could still recite the 1968 side to you.
The one thing that truly sticks in my mind is the save that Alex Stepney made from Eusebio, who was one of the best players in the world. I once had the pleasure of sitting beside Stepney at a dinner and I asked him about it. Eusebio had the hardest shot in the world and it hit him in the guts and knocked him back about a yard. If that had gone in it would have been a different game, but as it turned out it was a great win for United and I'll never forget it.
Matt Le Tissier (Soccer Saturday) - Grobbelaar's wobbly legs
My favourite memory of watching the European Cup over the years would have to be Liverpool's European Cup final win over Roma in 1984. Bruce Grobbelaar's wobbly legs was a very funny memory. It's a penalty shootout in a European final and you've this guy who doesn't look like he's too bothered. That just tickled me and is one of my abiding memories of the competition.
Chris Kamara (Sky Sports Football) - Manchester United's 1999 epic
As Sir Alex is going out this season it's fair we pay tribute to him and his side's comeback when they were down and out against Bayern Munich. It was an amazing turn-around on a night when Manchester United rode their luck. Bayern should have been out of sight but then Teddy Sheringham and Ole Gunnar Solskjaer changed everything.
I can still picture Peter Schmeichel coming up for that corner at the end, Sheringham sticking it in to equalise before flicking the ball on for Solskjaer to put them ahead and the celebrations on the bench. It was one of the greatest nights of Sir Alex Ferguson's career and, as he's bowing out, I'll go for that one.
Phil Thompson (Soccer Saturday) - Liverpool's latest triumph
For me, it has to be 2005 when Liverpool came from 3-0 down to beat AC Milan. I'm not so greedy that I'd go for 1981 when I lifted the European Cup! That is my own personal memory but I think that final in Istanbul was incredible. I think it was Sky's first year of blanket coverage of the Champions League final and it was sensational. You're never going to get anything like that again.
Martin Tyler (Sky Sports Football) - Real Madrid's seventh against Frankfurt in 1960
It's very hard to choose my favourite European Cup moment, but as a boy I remember watching the 1960 final in the flat where we lived over my dad's ironmongers shop. Alfredo di Stéfano and Ferenc Puskas got all seven Real goals between them, but Frankfurt had a real go as well. I recall Erwin Stein scoring for the Germans to make it 6-2 and Real kicked off and Di Stefano ran through and scored again as if to say "don't mess with us you impudent lot, we are the European champions." I was 14 years old and my mum was in the room with me and she didn't like football really, but I remember telling her "look at this, this is incredible". Whilst I have commentated on many great finals I am ultimately a football fan and as a young boy I was used to going to watch Woking. Watching Real Madrid on live TV really opened up my horizons.
There would have been no Champions League as we know it without that Real Madrid team. Without their imperious five in a row I believe it wouldn't have got going quite so quickly. Though I didn't know it at the time, Sir Alex Ferguson was in the Hampden crowd that day and I'd like to think we were both affected by what we saw. I'll never forget George Best's goal in 1968 or commentating on Manchester United's late win in 1999 or Didier Drogba's stupendous penalty last year, but 1960 was an amazing moment.
Stuart Barnes (Sky Sports Rugby) - Gunners go close
I've just commentated on the European Cup Final in my sport of rugby and I'll be tuning in to watch the football equivalent on Sky Sports this weekend. If you were to ask me to select my favourite memory from over the years I would have to go for Arsenal's 10 men scaring the life out of Barcelona for so long in 2006 (Jens Lehmann was sent off after 18 minutes, but Arsenal took the lead before eventually losing 2-1). And, alas, Thierry Henry, not pulling his weight on the day - a bitter memory. Yes, I am a long-term Gooner fan!
Niall Quinn (Sky Sports Football) - Liverpool's first triumph
For me, it has to be Tommy Smith's header for Liverpool in the 1977 final against Borrusia Moenchengladbach in Rome's Stadio Olimpico. German football was on a high back then, with Bayern Munich winning the previous three European Cups.
The game was level at 1-1 when Smith pounced around the hour mark. It came from a corner kick and he nearly took the net off. It was an iconic moment for Scousers, with Phil Neal sealing a first European Cup success with a late penalty, and they retained the trophy the following year.
Peter Beagrie (Sky Sports Football) - Liverpool's glory in Istanbul
Even though I'm an Everton man, the 2005 final was just remarkable. To come back from three goals behind is just ridiculous. I'm a Blue Nose, but Liverpool were my second team as a boy behind my hometown club of Middlesbrough because they dominated Europe in the 1970's and I was allowed to stay up late and watch them on Sportsnight. Kevin Keegan was my hero for years and I'd seen them in many finals before. When it was 3-0 at half-time, I thought to myself there wasn't a glimmer of hope and a lot of my pals switched off - but when it got to 3-2 the phone calls went round and the tellies went on again. There must have been an electricity surge throughout Liverpool!
The leader and captain Steven Gerrard epitomised inspiration and professionalism that night. To do what they did against such a strong Milan defence really takes the biscuit. It was stranger than fiction. It was like achieving the unachievable.