Cup of Dreams
Our FA Cup dreams feature returns ahead of the FA Cup first round on Saturday, and we are focusing on one of the potential giant killings as Boreham Wood of the Conference South host League One Carlisle United.
By Graeme Bailey - Tweet me: @graemebailey
Last Updated: 07/11/13 6:17pm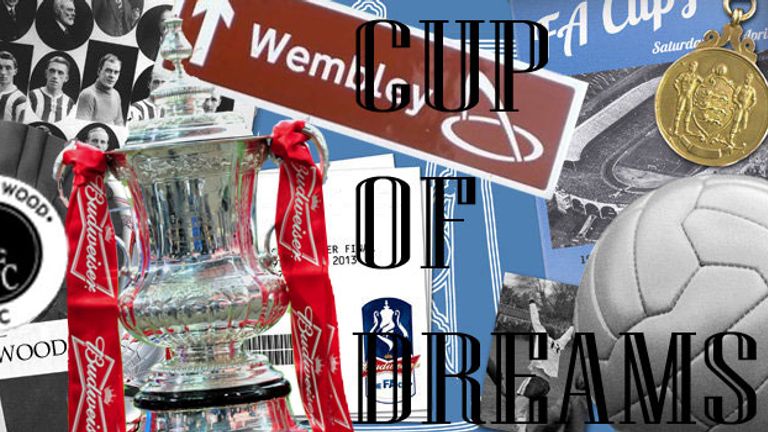 Celebrating their 65th anniversary, there are few clubs as young as Boreham Wood (note the club insist on keeping their name as it is, unlike the town Borehamwood who reverted to one word in more recent times) in the first round.
But despite their lack of history, the nature of the club is one that is set in stone. The club president has been with them from the day they were formed, and their current chairman Danny Hunter is a former player, and his father also used to manage them.
Hunter is the man behind 'The Wood' and he cannot wait for this weekend's big clash.
"This is our 65th anniversary, we still have the same president who was my chairman when I played and when my father was manager, so over the years it is a story that has been built on local people and we are not the best supported club in our division by a long way but there is a rich history to us and we think there is a real care. I don't think there will be anyone prouder than our president if we beat a pro club for the first time, as we haven't managed to do that yet.
"I remember as a youngster when we went to Southend, the first time we got to the first round proper, they gave us a bit of a slacking, and then after that drawing with Swindon and you remember that, all those memories stay with you - I go back over 40 years and if we win the game on Saturday there will not be a dry eye in my boardroom."
Despite the size of the club, Hunter has their future well mapped out and few non-league sides look in better shape for a possible assault on the Football League. Boreham Wood currently stand just two promotions off making it to League One.
Hunter admits the cup is a fantastic opportunity for his club, but the league remains the priority.
"It is a welcome distraction, but we are ambitious in the right way, we house and look after the Arsenal development and Ladies squad, so the facilities have improved but yes it is a welcome distraction as well as the money which helps us progress again," he explained.
"We know the league is our bread and butter but we have loved every minute, we have had the photo shoots with the FA Cup around sponsors and then the community had chance to get a photo with it, so all around it has been about creating a feel-good factor around the community and it has been important that we remain a focal point of that and we are also going the Strictly Come Dancing Studios which are based nearby, so it has been a great week."
Climbing the ladder
The Boreham Wood chief admits that climbing up the non-league ladder is something they are not shying away from.
"If we could achieve promotion to the Conference, that would really take us to another level - to get support from the visiting clubs, and then from that you go again.
"The plan for the moment is to have a real go at the Conference South, which is what we have tried to do this year and it has not gone well, but I have been chairman here for 15 seasons and I am not going to throw the manager Ian Allinson under the bus. We have been together a long time and we have been unfortunate with injuries and I think sometimes the stability of a chairman and manager, through good times and bad times, will give us a platform to hopefully achieve a Conference promotion and that is the first step to where we went to get to.
"Over the last few years, we have spent a lot of money on facilities and we are building a new stand, we have the largest 16 to 19-year-old academy possibly in the country and so bit by bit, the small steps we take - if we get there we think we will have the infrastructure which means we won't return to where we came from, and I think we could put together a budget that would allow us to compete, but the infrastructure when you come to Boreham Wood, it is bigger than just a football club. We have built things slowly, but all the income streams go to making us a strong club off the field."
In reference to Boreham Wood's infrastructure, they are home to one of the most highly-acclaimed academies in England - despite the fact they get no funding for the scheme.
"The PASE scheme stands for programme for academic and sporting excellence and I started it many years ago with just 16 boys and now we have a scheme which has over 300 boys," said a proud Hunter.
"What we try and do is create a sporting and educational environment for kids to prosper and over the last few years we have produced England College and Schoolboy internationals, we have kids in America on scholarships and just recently Pelly Ruddock made his debut for West Ham, so these things are fantastic for us and we take great pride in what we are producing and we take great pride in the boys who come from our academy.
"It is something that has given us a great spine, and we are still improving and still learning, we are not a pro-Academy, we don't get any income from the Football League or Premier League, we have to generate for education through what we provide - we have to generate our own income but it works for us and I would like to think we are one of the better academies in the country.
"We have got boys coming through all the time and they don't just stay they go on, we have got boys who have come through our youth system like Lee Hodson who has played for Northern Ireland. There are a number of players like that who have gone on to become good pros, and again we are very proud in the part we have played in their progress.
"There is a nice bridge between the youth and first-team and we they are there, you can see the pride from the coaches and you never know, come Saturday, it could be one of our kids that gives us that chance to cause an upset, you just don't know. they will certainly be good enough and give it everything they have, which you get when someone who has been with you for that long.
"Carlisle are going to be playing kids who are playing for us for £25 a week, they are not turning up here without anything in their mind other than that they are proud to play for our club and the glory of the FA Cup - it is still the greatest cup competition in the world and for small clubs like us it is amazing."
Hunter reveals that the club are taking Carlisle very seriously and they have taken a close look at the League One outfit.
"Obviously we have done our homework on Carlisle, and we have got friends at Brentford and Gillingham who have given us reports and analysis. It seems they are much improved side since Graham Kavanagh has had them and even though they lost on Saturday, it was felt here they were possibly the better side, they are two, three divisions above us so we know what to expect, we had Brentford here last year - but we are not bad ourselves.
"We have kept six clean-sheets in the last eight and we have got one of two good players here, and we just hope we give a good account of ourselves. One thing for sure is that we will give it everything we have and hopefully it is our day."