Brits abroad - Brian Deane
As part of our Brits Abroad series, former England international striker Brian Deane discusses his coaching career in Norway with Sarpsborg 08...
By Owen Amos
Last Updated: 30/06/14 11:55pm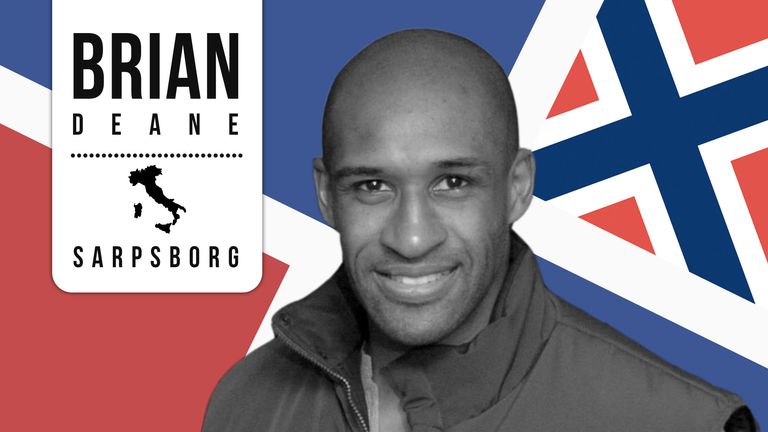 Brian Deane is the manager of Norwegian top-flight club, Sarpsborg 08. As a player, the 46-year-old won three England caps, scored the first goal in Premier League history, and appeared for Sheffield United, Leeds and Benfica, among others. Here, he talks to Owen Amos about why he moved abroad, life in Norway - and why he didn't go out drinking with his players at Leeds University...
Did you always want to be a coach?
I retired in 2006, and the longer I stayed out of the game, the more I realised I wanted to get back in. For me, that meant going into coaching, because I didn't see myself as an agent, or working in admin. I felt I had a lot to offer - at West Ham, I would mentor young guys like Anton Ferdinand, Jermain Defoe, Nigel Reo-Coker. At Leicester, it was the same with young lads like Jordan Stewart or Matt Piper. I gave them as much advice as I could. I wanted them to avoid the pitfalls that I fell into.
A year or so after retiring, I started to do my coaching badges. I reached my UEFA B and needed to do some hours on the training pitch. I spoke to one guy I knew, and asked if I could come to his club, and practise down there. Unfortunately, there was a bit of resistance above him. I don't know if they thought I was after the manager's job, or what.
At that time, a mutual friend introduced me to the head coach of Leeds University, Ian Burchnall. We hit it off straight away. I went to the university training sessions, enjoyed it, and became director of football. It was a great place to learn. I enjoyed being on the training pitch, working with the lads and trying to make a difference. We had guys doing neuroscience, guys doing quantitative surveying, so they were very bright people. Did I ever go drinking with them? No - I was too old for that!
In my first season working at the university, 2009/10, we won the British championship. We were a red brick university, up against sports colleges like Loughborough, but we went the season undefeated. The players were great - very receptive, very respectful, took everything on board. It was a fantastic time.
So how did the move to Norway come about?
I applied for a couple of jobs in England, and didn't even get a reply. They were management posts in the lower leagues. I'd done my UEFA A Licence, I felt I was ready, so it was disappointing. Was it because of my colour? To be honest, I didn't give it much thought. I just thought: "I played for England, Benfica, Leeds, Sheffield United; I played for some of the most high-profile managers in the game; if I haven't got something to offer, we might as well all pack in."
Before I moved to Norway, I had some connections with the country. Myself and Ian set up our own academy in Leeds, the International Academy for Football and Education. It involved bringing over foreign students - primarily from Norway - to study and play football. I also had links through former teammates, or people I'd played against - Jan Aage Fjortoft, Gunnar Halle, people like that.
I was introduced to (former Oldham and Wimbledon player) Tore Pedersen, who's now an agent. I told him I wanted to get back into full-time football, and he said there might be an opportunity in Norway. They watch a lot of Premier League, so I was known over there. Four or five months later, he phoned and said Sarpsborg were a good fit: top division, small club, well-run, good people. I went through the interview process, and got the job.
Was it daunting to go and coach abroad?
To some people, it can be daunting moving abroad. A lot of coaches and managers don't see it as an option- they think: "I'll wait for a job down the road". For me, Norway was a good opportunity. I played abroad (in Portugal and Australia) and this was a chance to try another culture. Of course, I wanted to start my career in England, but when you apply for jobs and don't get a reply, you have to be creative. I thought: "I'm going to have to do something different here."
I was very keen to take Ian Burchnall as my assistant. He was never a professional, but that means he sees things from different angles. If you just take your mate, someone you played with, you might not get that perspective. I played over 20 years, and saw plenty of changes - from First Division to Premier League and beyond - and I like to think I've adapted. But you don't see it all. That's why we work well - we're similar where we need to be, but we've had different experiences. We see both sides.
How is it going at Sarpsborg?
When we stayed up last season, via the play-off, it was emotional. People had written us off. Nobody fancied us to stay up, but I always believed. This season, I'd love to finish top ten. But it won't be easy - we're a small team with a small budget, so we have to be realistic. Improvement for us will be improving the way we play, and improving our final position in the league.
At Sarpsborg, we try to play good, attacking football. When I first played for Sheffield United, we did play a lot of quick, long, forward passes. But as I got older, I realised it was too easy (for defenders). I know what it's like to play up front, having balls fired at you, with no chance of getting hold of it. So we try to play a game based on quick passing; on finding solutions in small areas.
What's the standard like?
It's hard to compare the Norwegian league with the Premier League. In England, you've got guys on £300,000 a week - that would be enough for my entire squad for a month! But there's some real talent here - we sold a young goalkeeper to Manchester City (Kjetil Haug), we've had one boy make his Norway debut aged 20 (Mohamed Elyounoussi), another make his Iceland debut at 21 (Gudmundur Thorarinson), and we've had a boy go on trial at Monaco (Aaron Samuel).
Is there a language barrier?
I've picked up some Norwegian - and I picked up a bit of Portuguese when I played for Benfica - but everyone speaks to you in English. Realistically, I have to deliver my messages in English. If I was struggling away in Norwegian, the players would just think: "What is this idiot on about?"
Do you envisage returning to England?
I'd love to come back to England one day, but I'm very happy here. I'm with a team and a board that respect me. I feel I owe them, and I will give them everything I've got. And living in Norway is fantastic - it's very beautiful, the countryside is stunning, and the lifestyle is very outdoorsy. People are very laidback, family-orientated, and it's very safe. I'm really grateful to be here.
So you'd recommend it?
It's not easy to up sticks and move abroad, but you've got to be brave. It's never as daunting as you think. If you want to build a career - and you're passionate, and you want to succeed - it might be your only option. I sometimes think: "What would I be doing now, if I were still in England?" If I was not managing, looking for work, I'd be tearing my hair out. Sometimes you have to be creative.