Sunderland, Newcastle, Liverpool: Plans for their week off?
By Lewis Jones
Last Updated: 16/02/16 3:40pm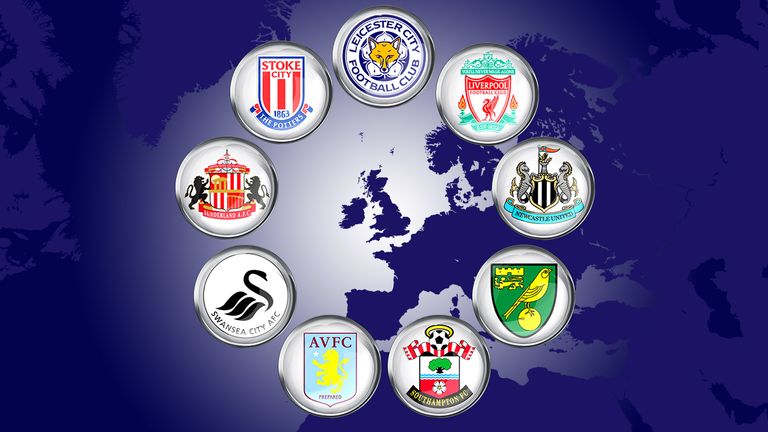 Having a week without a game is a rare commodity for Premier League clubs.
It brings forward plenty of options for managers to consider. Some like to jet their players off to warmer climes for intensive training sessions while others will reward their troops with seven days of leave. 
Eleven Premier League clubs are in FA Cup action next weekend but what about the rest? What will they get up to on their week off?
Sunderland - Next game: West Ham (a) February 28
Sam Allardyce has been a leading voice within football to bring in a winter break for Premier League clubs.
But he has to make do with creating his own and the gap in this week's fixture list means he's sanctioned a trip to Dubai for his players. It's something he's done at Bolton, Blackburn and West Ham and, unlike most other clubs, his teams are there to rest and recuperate.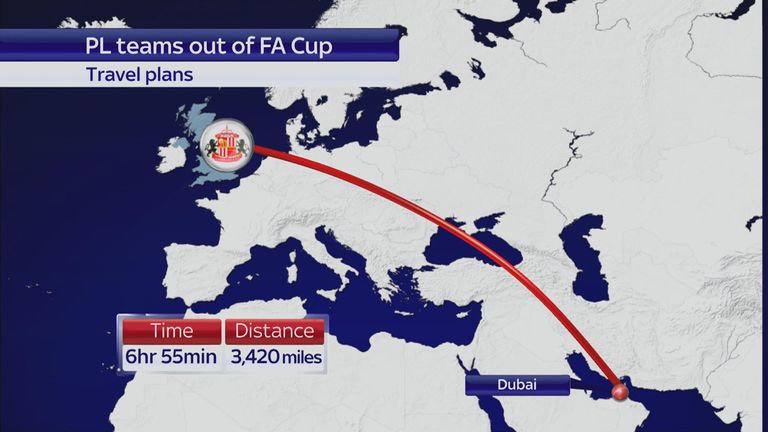 Allardyce said: "More and more figures prove that winter breaks work. My previous teams have had breaks in Dubai for five or six days in February. The stats tell you that, over 14 years, Bolton, Blackburn, West Ham have improved their physical output just by five days' break."
Newcastle - Next game: Stoke (a) March 2
The relegation-threatened Toon haven't exactly prospered away from their home town this season, losing 10 of their 12 away games and scoring just seven goals. However, that hasn't stopped boss Steve McClaren plotting a trip to Spain to spend a week at the five-star training base in La Manga - a facility used by Real Madrid and Barcelona.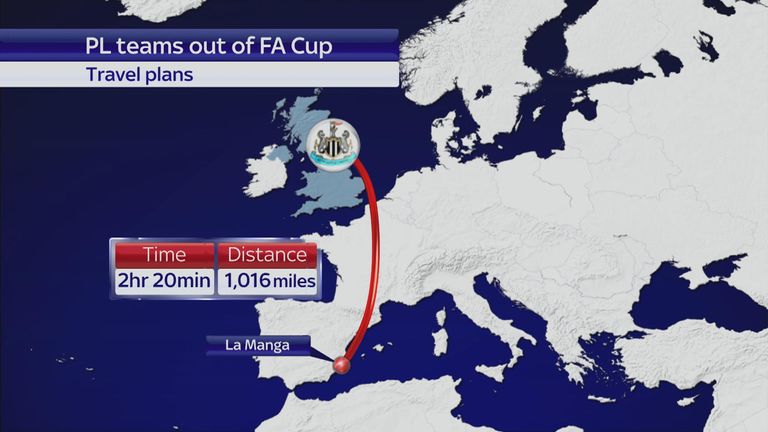 Despite the luxurious surroundings this trip will be "no social" according to McClaren.
He told the Newcastle Chronicle: "We believe there is a lot of work and preparation to be done.
"There are players coming back, we need work and togetherness because after the Chelsea game from Stoke onwards it's game after game."
Newcastle will round off their week of training in La Manga with a behind-closed-doors friendly on Saturday against Lillestrom.
Norwich - Next game: Leicester (a) February 27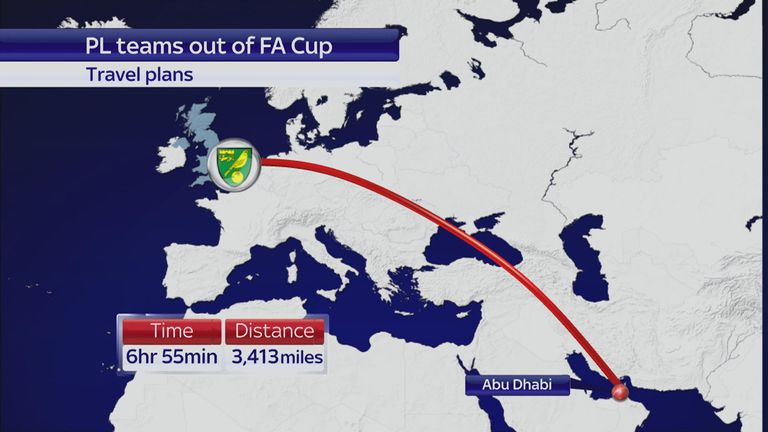 Getting knocked out of the FA Cup by Manchester City could turn out to be just what the doctor ordered for Alex Neil's men. It has given the manager the opportunity to get his players away from the rigours of Premier League football and recharge their batteries at a training camp in Abu Dhabi for five days.
Norwich are bottom of the Premier League form table, having taken just one point from their last six matches and although they sit outside the relegation zone, it's only on goal difference.
Stoke - Next game: Aston Villa (h) February 27
Mark Hughes' side are travelling to Dubai on Tuesday for five days of warm weather training - a trip he has overseen every year since taking the Stoke job.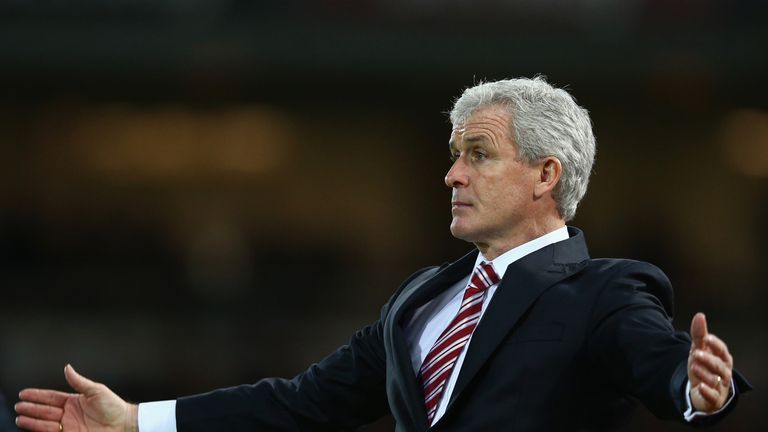 He said: "People might look at it and think it's a jolly, but that's not the case. There are real benefits that we glean from trips of this nature."
Hughes may have a point. A rejuvenated Stoke ended last season unbeaten in seven games, including beating Liverpool 6-1 on the final day.
Liverpool - Next game: FC Augsburg (a) February 18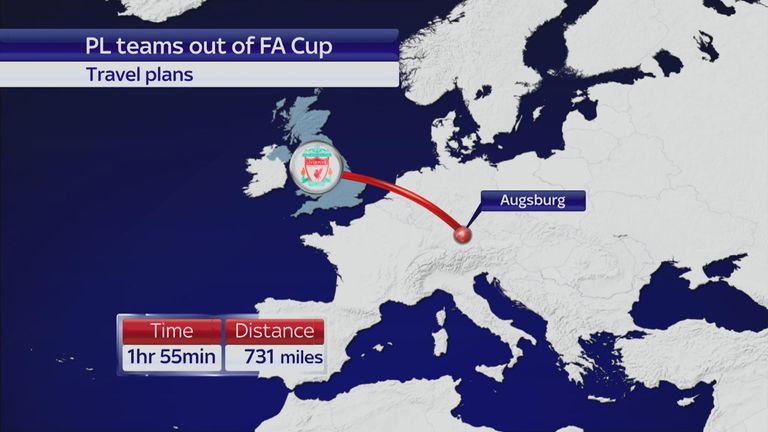 Liverpool manager Jurgen Klopp will be treated to a rare weekend off following the away leg of the Reds' Europa League round-of-32 tie. Klopp has already overseen 30 games in charge of his new side as his team have been engaged in both league and cup competitions in a relentless fixture list.
Defeat against West Ham in the FA Cup fourth-round replay means Liverpool will have a seven-day break between their two matches against Augsburg. The club have confirmed there are no training trips scheduled.
Leicester - Next game: Norwich (h) February 27
Knocked out of all other competitions, Leicester City have just the Premier League to concentrate on, which is seen a huge positive by many pundits when assessing the title race. What they lack in experience, they could well make up for in stamina.
Despite losing 2-1 to Arsenal on Super Sunday, City are still the league leaders and now have a two-week break before their next game, a home fixture against relegation-threatened Norwich.
Manager Claudio Ranieri has given his squad the week off to refocus their energy on the title run and the players have been given the green light to take a holiday abroad. 
Southampton - Next game: Chelsea (h) February 27
Southampton embark on a 13-day break without a game on the back of their 1-0 win against Swansea City, which extended their unbeaten run and clean sheet record to six games.
Manager Ronald Koeman is keen to kick-on further up the table in the remaining 12 games and has allowed his players a few days off but no trips abroad have been planned.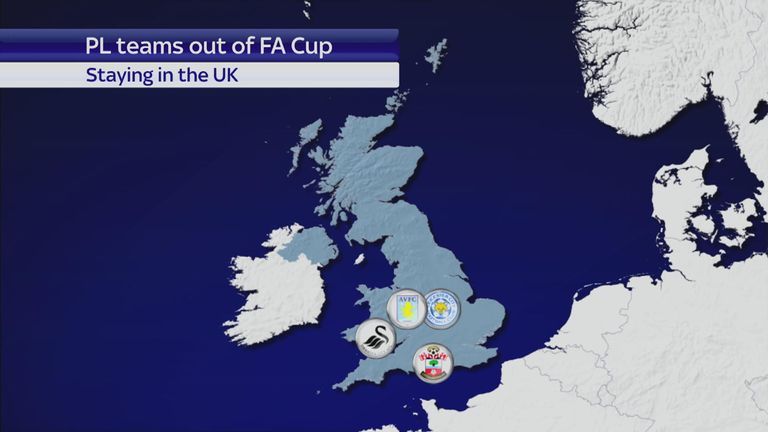 Swansea - Next game: Tottenham (a) February 28
Swansea have 12 games to save their Premier League status and this break between fixtures will give new head coach Francesco Guidolin, who was appointed last month, a chance to work with his players on the training ground.
He's given his squad time off until Thursday and no trip abroad has been planned.  
Aston Villa: Next game: Stoke (a) February 28
Things are looking bleak for Remi Garde's men after their 6-0 home defeat to Liverpool left them eight points from safety and needing a minor miracle to survive relegation.
Plans for a winter training break were never on the agenda for Garde, who is expected to give his players a light workload early this week with an extra day off scheduled for the first team.