Premier League grades: Tottenham, Manchester City and Chelsea impress
By Tony Gale
Last Updated: 25/09/17 11:39am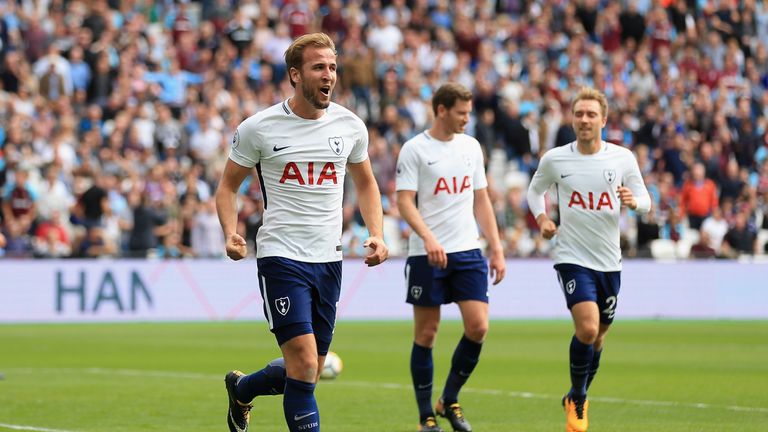 Who exceeded expectations in the Premier League at the weekend and who failed to deliver?
We asked Sky Sports Now guest Tony Gale to give each side a grade, based purely on their weekend performance.
So, how did your team fare? Read on to find out...
Premier League results
| | | |
| --- | --- | --- |
| Brighton 1-0 Newcastle | West Ham 2-3 Tottenham | Burnley 0-0 Huddersfield |
| Everton 2-1 Bournemouth | Man City 5-0 Crystal Palace | Southampton 0-1 Man Utd |
| Stoke 0-4 Chelsea | Swansea 1-2 Watford | Leicester 2-3 Liverpool |
Tottenham - A
It would have been an A+ as at 3-0 they were cruising, but it was not quite the perfect performance in the end. Harry Kane was excellent, but with Serge Aurier getting sent off it made it more difficult and there were some nervy moments.
Manchester City - A
It was not the perfect display, only because they took a while to get going and it was a bit pedestrian at the start, as Pep Guardiola said. Once they get going, though, they are like a steam train and very difficult to stop. They are firing on all cylinders and you would not want to play them. They have started very brightly and the challenge for them is to continue in this form, which they did not do last season.
Watford - A
That is three away wins against sides you might expect to be around them in the table - Bournemouth, Southampton and Swansea. Watford are a good side and considering they had three first-choice centre-backs - Sebastian Prodl, Miguel Britos and Craig Cathcart - all missing, it was a brilliant result. It was not a fluid performance but they look a decent side.
Chelsea - A
They did a real number on Stoke. Once Chelsea get in front they are a nightmare to break down. Even before they scored you could see how they were going to set up in their pattern and they were excellent and could have scored more.
I think Alvaro Morata is technically better than Diego Costa. Costa is more aggressive but Morata is decent in the air and he looks as though he will be good for Chelsea. He is going to play every week and he will up there with the top scorers in the league.
West Ham - B
They were playing alright until Michail Antonio got injured. The introduction of Andy Carroll changed their plan and they went more direct, rather than play into Javier Hernandez down the middle. Defensively they made too many mistakes.
Huddersfield - B
David Wagner has done an excellent job. He keeps talking about the clean sheets and they have kept four in six Premier League games. They will have to start scoring goals, though, because they have found that difficult since beating Crystal Palace on the opening day. Defensively they are setting up very well.
Everton - B
They are still struggling to get their rhythm and Ronald Koeman is struggling to find his best side, but this was an important win. They nicked it in the end and the crowd had a bit more influence after they got the first goal back. Everton are capable of better and Koeman has to settle on his best side. I don't think Oumar Niasse will be the answer long term even though he got a couple of goals.
Bournemouth - B
They will be kicking themselves. They were looking quite comfortable at 1-0 and playing well, and then Jermain Defoe had a one-on-one and should have scored.
Manchester United - B
It was a typical Jose Mourinho performance. They did what they had to do without being entertaining. You do not have to be entertaining all the time but this is the type of result that can win you titles. Southampton were probably the better side on the day in terms of the play, but this was a good result for United. It was about doing the job and they did it.
Stoke - B
This is a funny one. Having lost 4-0 you might think they were rubbish but there was a lot for Mark Hughes to be pleased about in the performance. They looked the better side at 1-0 and 2-0 and were creating chances, but when the third goal went in they were gone. Usually it would be a C or D for a 4-0 defeat, but they were on the end of a very professional display from Chelsea.
However, I did speak to some of the Stoke coaches afterwards and they were saying how they worked all week about not getting beaten by one ball. What did they do? Get beaten by one ball inside the first minute.
Southampton - B
They have to find a way of scoring goals. I have covered three of their games this season and up until the final third they look good and then all of a sudden they need that bit of acceleration and a final ball or finishing touch and it does not happen. They played well without having loads of chances. They sacked Claude Puel because they wanted more entertainment and I can't see anything that has changed. It looks exactly the same.
Liverpool - B
They are still conceding goals in the same fashion but they look so good going forward. I love sides who play fluid, attacking football and press, but you look at the other end and think they could concede at any moment.
Leicester - B
They did not play particularly badly. It could have gone either way and could have ended in a draw. They have not got results recently but they are a few games away from turning it around. They have had some tough fixtures.
Brighton - B
This is the kind of game Brighton would have targeted to win and they managed to do it and keep a clean sheet. They were slightly the better side on the day.
Newcastle - B-
It was a tight game and despite Rafa Benitez's complaints about the goal I think it was fair. Newcastle played alright but just could not take any of the chances they created.
Burnley - C
In these games they have to realise they are the favourites and be a bit more attack-minded. They didn't really take the game to Huddersfield throughout and were a bit cagey at times.
Crystal Palace - C
It was an expected defeat but the manner in which they caved in will be a bit alarming for Roy Hodgson. I can see it turning around but fans will have to be patient. They have a couple of tough games against Manchester United and Chelsea and even when you look at the games after that against Newcastle and West Ham, they are not easy. They could lose eight or nine on the spin which would leave them a long way behind.
Swansea - C
Even Paul Clement admitted in the first half they were useless. In the second half they picked it up but the concession of two sloppy goals will drive Clement mad. They have to work harder and they will because Clement is a good manager.