Cesc braced for Barca challenge
Cesc Fabregas claims returning to his roots at Barcelona has presented him with the challenge of his life.
By Chris Burton
Last Updated: 15/08/11 1:49pm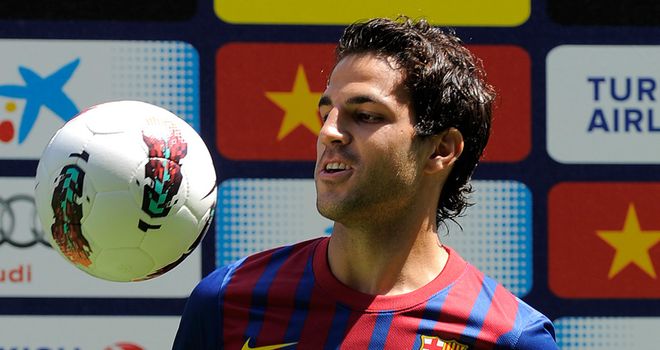 Cesc Fabregas claims returning to his roots at Barcelona has presented him with the challenge of his life.
The Spain international completed his move from Arsenal to Camp Nou on Monday, penning a five-year contract.
A Catalan native, Fabregas heads back to Barcelona after eight years in England with the Gunners.
A switch to the reigning Spanish and European champions has been on the cards for some time, with each passing transfer window bringing a fresh round of transfer talks.
Fabregas is delighted to have finally secured a dream move, while Barca are relieved to have got their man at the umpteenth time of asking.
The World Cup winner admits he found it tough to sever ties with Arsenal, the club that helped nurture him into the player he is today, but he admits he cannot wait to open an exciting new chapter in his career with Barca.
Fabregas said: "For me it's a special day. I'm returning home.
"I know that the Arsenal fans will be disappointed with my exit from the club, but I'm here to face an incredible challenge, the challenge of my life."
Praise
Arsene Wenger finally bowed to Barca's relentless pressure on Sunday, with Arsenal announcing that they had agreed a deal with the Catalan giants.
The Gunners boss has been criticised in the past for luring Fabregas away from Camp Nou when he was a promising teenager, but the 24-year-old insists he will be eternally grateful to the French tactician for putting him on the path to domestic and international glory.
"I'll never have enough words to thank him for all he's done for me," he said.
"I'll never forget him.
"I don't think he has such a good image here, he has been portrayed as something he's not, in my opinion. If today I am here with you then it's greatly due to him.
"I can't express my admiration for him strongly enough, I owe it to him that I am here."
Ready
Having put the finishing touches to a long-term deal, Fabregas is now looking to make his debut as quickly as possible.
He has been training with Arsenal and insists he would be ready to make his bow in the second leg of a Spanish Super Cup clash with Real Madrid on Wednesday.
He said: "Physically I'm fine and ready for everything. It's not my decision whether to play or not.
"I'm going to work very hard as always and enjoy it. I will give everything to make this club better."