Rafa Benitez says Fernando Torres can rediscover form and fans will be onside
Rafael Benitez insists he can help Fernando Torres rediscover his form and he has a message for the Chelsea fans.
Last Updated: 27/11/12 6:34pm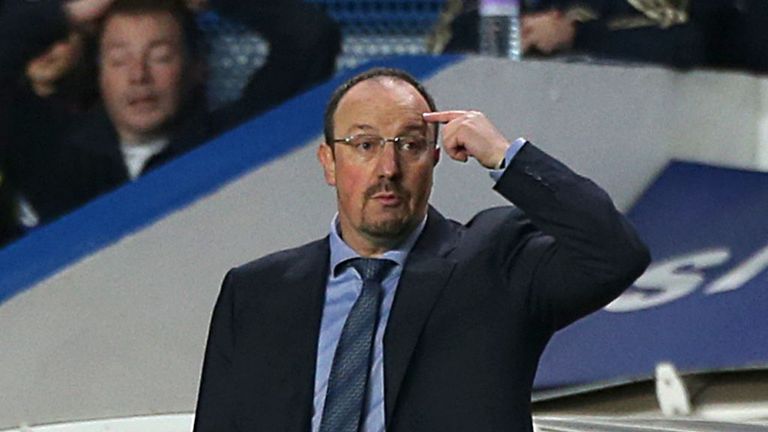 Benitez got a frosty reception from sections of the club's support when he made his first appearance in the dug-out against Manchester City on Sunday.
But he is adamant that he can revive the fortunes of the club and Torres - and get the fans back on side in the process.
"I understand the fans and how they feel," he told Sky Sports News. "I will try to prove I am here for the right reasons and I want to win.
"Imagine if you are a player who is struggling. I would say 'Stay focused, try to do your job, don't get distracted, concentrate on your football'."
"For me it is the same, I want to concentrate on coaching, improve the players and bring the fans back.
"I understand the feeling of the fans because of my time at Liverpool. We had a rivalry which was quite difficult.
Benitez' second game in charge will be a west London derby with Fulham on Wednesday night and he is expecting a difficult evening.
"I know a derby's a derby," Benitez said. "Maybe it's not the biggest rivalry for us, but we have a lot of respect for Fulham."
He insists he can bring the best out of Fernando Torres, who he turned into a £50m player at Liverpool - but says it is not just up to him.
"Torres can come back, but how far? I don't know. It depends on the team. Yes he can improve, I am sure he can improve, but it depends on the team to help him.
"I am not under pressure to pick him because Daniel Sturridge is still injured so I don't have many options."
But Benitez acknowledged the 28-year-old is not the same player he had been before joining Chelsea and needed to improve physically to stand a chance of recapturing his glory days.
"He's not exactly the same player now, because he was at maximum level at this time [at Liverpool]."
Torres also has to help himself, as does Benitez, following a run of just 19 goals in 88 games for the European champions.
"The first thing is to give him some confidence, instructions as to how he can do things in a different way, improve him a little bit physically," said Benitez, who wants Torres's team-mates to create more chances for the striker and win the ball back more quickly in defence.
"You need to be stronger in defence, regain the ball easier and then you can create your own chances. That will benefit Torres.
"Players with mobility, quality... we can improve all these things."