Premier League: Sergio Aguero is very happy at Manchester City
Sergio Aguero insists he very happy at Manchester City and pleased with where the club is going.
Last Updated: 06/10/13 4:04pm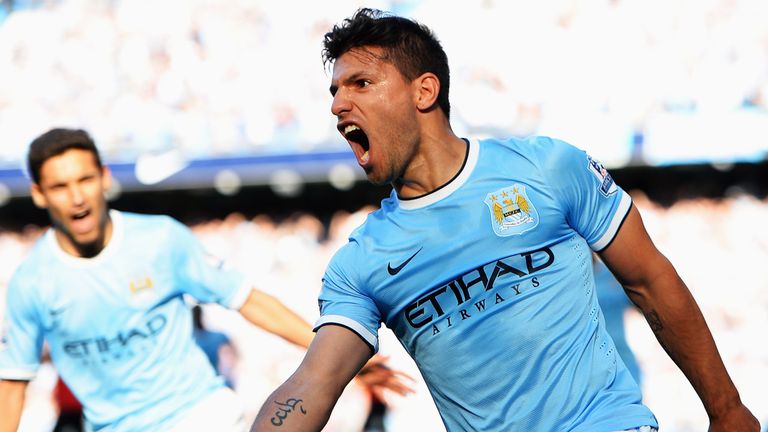 The Argentine is regularly linked with a move back to Madrid, where he starred for Atletico - but it is Real who are said to be keeping continuous tabs on him.
But Aguero has never struggled to settle in England since his near £40million move in 2011 and he maintains he is very happy with life at the Etihad Stadium.
"I'm very happy at City, very happy since the day I came," he is quoted by the Observer. "I knew that the project was good and in my head there is nothing else but Manchester City, so how long I'm going to be at City is just never a question.
"I'm happy here, my family's here when they come to England, all I can do is give everything I have for the club and concentrate on achieving for the club.
"We are improving every year the team, the club, the club is growing, we are working in the same direction to get the club as high as possible.
"Some years are better than others, but it's a much better club, a much better team than it was four or five years ago, so we just have to go [continue] in the same way."
Aguero believes the club are moving in the right direction.
"The club has done things the right way in the last four or five years," he added.
"Not only the players who are here now, but the fantastic players that have been in the club.
"Now we have a new manager with a new challenge, we need time to implement his ideas. But the club is doing the right thing, it's doing it properly. We're all fighting for the same, which is to make the club the best possible."
Aguero feels City can win anything they are competing for.
"We will try to always do the best whether it is the Premier League, the Champions League, a cup game," he said.
"We always want to win and we always want to do the best for Manchester City and the fans."