House of Commons statement on the Hillsborough Disaster
Home Secretary Theresa May has provided an update to the House of Commons into the Hillsborough Disaster.
Last Updated: 12/02/14 3:13pm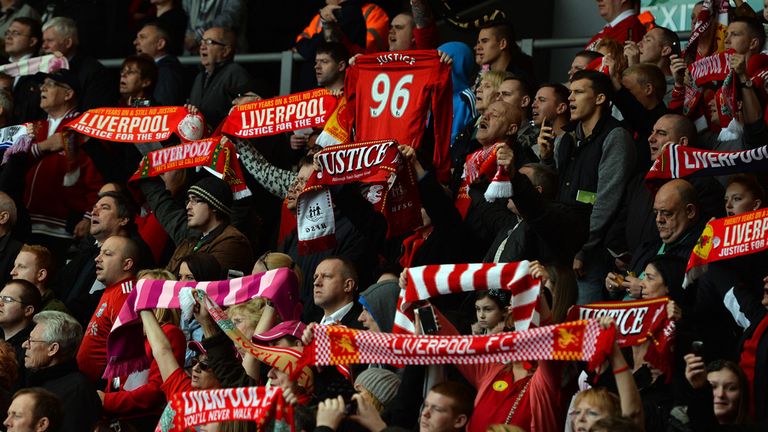 The original inquest verdicts into the disaster, in which 96 Liverpool fans died at an FA Cup semi-final against Nottingham Forest on 15 April, 1989, were quashed by the High Court within a few months of the publication of the Hillsborough Independent Panel's report in September 2012.
That decision resulted in setting up fresh inquests and two major investigations into the events around events at Hillsborough, and Lord Justice Goldring will start a fresh inquest on 31 March.
The Home Secretary has praised the work of the Independent Police Complaints Commission, but she did confirm that 13 retired police offices have declined to be interviewed as witnesses as part of the ongoing investigation.
May said: "I would like now to set out to the House some of the progress being made. First, in respect of the IPCC, over 1600 people have now responded to the IPCC's witness appeal. This includes over 250 people who have never given accounts before. The IPCC is conducting detailed analysis of every response and is following up the evidence provided.
"Separately, around 400 witnesses have made requests to the IPCC to see their original statements, and the IPCC is helping people access those statements. In addition, the IPCC has recovered around 2500 police pocket notebooks. These pocketbooks had not been made available to previous investigations, and are now being analysed by IPCC investigators.
"The IPCC has also conducted further analysis of the 242 police accounts now believed to have been amended. In this context they have completed more than 160 interviews and these interviews continue.
"Alongside the IPCC investigation, is the police investigation Operation Resolve. The work being done by Operation Resolve is aimed at providing the fullest possible picture of what happened at Hillsborough, both to ensure that the inquest is able to answer the questions that the bereaved families still have and in support of the criminal investigation."
The Home Secretary also reiterated claims made by Jon Stoddart, who is leading Operation Resolve, a criminal investigation into the deaths, that no stone will be left unturned in the quest for justice.
May added: "If we find there were health and safety breaches or evidence of wilful neglect, we will seek to ensure the appropriate action is taken against those responsible.
"If we find that with the benefit of hindsight there are lessons to be learned we will endeavour to ensure that they are addressed. And if we find evidence of criminal behaviour, including manslaughter through neglect, we will seek to lay charges and put people and organisations before the courts."