City need Kompany
As Manchester City continue to struggle at the back in the absence of Vincent Kompany, Matt Stanger wonders why a club with such riches at their disposal has allowed themselves to become so reliant on the presence of their captain at the heart of the defence...
Last Updated: 01/11/13 9:04am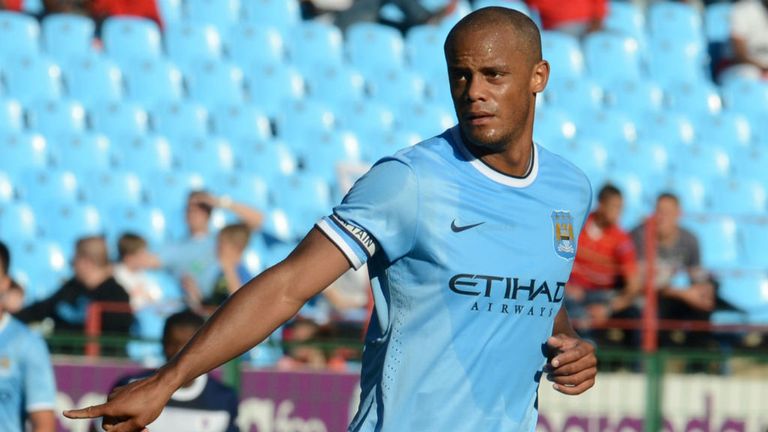 "United will find it hard to defend the title since they have a new manager and are really struggling."
After Manchester City suffered their third Premier League defeat of the season at Chelsea to slip just two points above their rivals, it wasn't Yaya Toure's best idea to fire a shot over the parapet this week. The champions are certainly struggling to defend their title as they adjust to David Moyes' methods, but City are struggling to defend full stop, with only eight teams possessing a leakier defence than the Blues at this juncture.
At his unveiling in the summer, Manuel Pellegrini spoke of his intention for City to play 'attractive and attacking football' during his reign, but the manager appears to be finding it difficult to balance this aim with maintaining the resolve the Blues them record the best defensive record in the top flight in each of the last two seasons.
While Joe Hart's latest error on Sunday has reportedly caused Pellegrini to ponder replacing his number one, he should be equally concerned about the men in front of the keeper after watching his team manage just a single clean sheet in the last seven matches. City's inconsistent form points mainly to the absence of one man, as Vincent Kompany continues to train alone at Carrington in his bid to return to full fitness.
It has been reported that the captain will miss the next two matches owing to his troublesome thigh injury, leaving Pellegrini with an ongoing headache over his centre-back partnership. The Chilean has experimented with six different combinations so far, but both Martin Demichelis and Javi Garcia represent a sharp drop in quality while Joleon Lescott has been frozen out in the Premier League.
Given City's embarrassment of riches, the extent to which they rely on Kompany is quite absurd. United were forced to play without Nemanja Vidic for most of last season but still marched to the title in emphatic fashion; if City were robbed of Kompany for an extended period of time the same would be unthinkable. "I'm sure we have the best squad in the Premier League," said Pellegrini in the summer. "We have wonderful players and we can reach important titles in the next three or four seasons here." Not without Kompany, it seems.
Although the Belgian featured in City's shambolic loss to Aston Villa and the 3-1 humbling at the hands of Bayern Munich, the captain's influence was clearly visible in September's 4-1 win over United. Wayne Rooney wasn't given a sniff on that afternoon - scoring his consolation strike direct from a set-piece - with Kompany claiming that the derby "meant a little bit more to us than to them".
That City have recorded a top-flight win percentage of 69% with Kompany since the start of 2011/12 compared to 58% without the captain underlines his impact on performances and results. The Blues concede fewer goals and score more when Kompany is in the team, with the back-line largely in lockdown when the Belgian is present.
As Eden Hazard said before Chelsea's 2-1 victory at Stamford Bridge last week: "Kompany is really important for City because when he plays they win and when he doesn't play they often lose." If opposition players have made a mental note of this, then why haven't the City hierarchy, who splashed £4million on Demichelis in the summer and thought that was that with regards to strengthening the defence?
Perhaps this costly oversight in the transfer window was entirely predictable owing to the influence of Txiki Begiristain, who struggled to improve Barcelona's defence in his later years as director of football at the Nou Camp. It's no wonder that a man who sanctioned the €25million signing of Dmytro Chygrynskiy from Shakhtar Donetsk - only to see the centre-back return whence he came just ten months later - might be afraid to splash out on defenders.
But it has now become abundantly clear that City need to spend again in January to plug the enormous gap caused by Kompany's injuries. Writing in The Telegraph after City's title win in 2012, Alan Hansen referred to the captain as "arguably the best transfer market buy of all time", adding that "he has shown why he is on course to become the best defender of the Premier League era." With Kompany costing just £6million, Hansen may have a case, and City must look to repeat their shrewd acquisition if they are to avoid slipping any further down the table in the captain's absence.
This article first appeared on Football365