Premier League: Stevan Jovetic's brace in the 3-1 win against Liverpool highlights Manchester City's depth
Despite all the talk about Mario Balotelli in the build-up to the match, it was Stevan Jovetic who starred in Man City's impressive victory over Liverpool. The striker certainly has a part to play after last season's frustrations, writes Matthew Stanger.
Last Updated: 25/08/14 11:09pm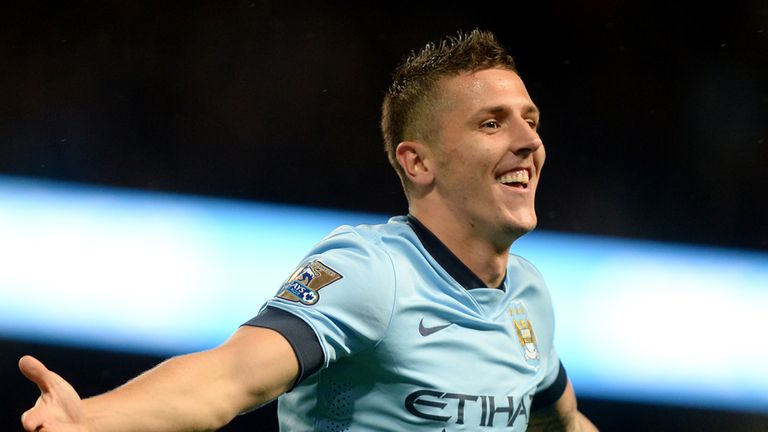 When asked what Mario Balotelli will bring to Liverpool before a pulsating encounter at the Etihad, Brendan Rodgers joked on Sky Sports: "Trouble." But it was the Italian's replacement at Manchester City that posed the biggest problem for the Reds on a night that saw City reassert their superiority.
Stevan Jovetic was a ghost in City's squad last season, collecting a Premier League winner's medal despite making only 13 appearances for the champions. Injuries disrupted a frustrating campaign, but Manuel Pellegrini never lost faith in the forward. "He had a number of different injuries last season but now he is fully fit," said Pellegrini in pre-season. "If he's fit all the year, he will be a very important player for us." On Monday, Jovetic began to reward his manager's patience.
With Balotelli watching in the stands at his former stomping ground, Jovetic provided the sort of lively display that his predecessor frequently failed to deliver. Developing on the flashes of quality he exhibited in the Community Shield and at Newcastle on the opening weekend, Jovetic's contribution once again emphasised the remarkable depth of City's squad. The best attack in the Premier League has been strengthened without even having to dip into the transfer market, although 'dip' is rarely the right word when it comes to City's spending power.
Jovetic faced being the fourth wheel among City's strikers after a nightmare debut campaign, but Alvaro Negredo's foot injury and Sergio Aguero's steady return to fitness have afforded him an unexpected opportunity to stake a claim for a starting spot. And it is one he clearly intends to seize in the manner in which he pounced on Alberto Moreno's hesitation to fire City into the lead.
Movement
More than anything else, a fully fit Jovetic offers movement and, after pulling Liverpool's defenders out of position with his darting runs, the forward capitalised on Moreno's momentary lapse to rifle the ball through Simon Mignolet. His second goal revealed even more of his talent, as the 24-year-old flicked a delightful through-ball to Samir Nasri before connecting with his team-mate's return pass to put City firmly in control. By this stage the hosts were cruising, and Aguero's introduction in the 68th minute was followed by the Argentine grabbing the third goal in the 69th.
The home support gloated that Balotelli is destined to win nothing with his new club, but the Italian will have been impressed by several aspects of Liverpool's performance, despite the Reds suffering a frustrating defeat. That is more than can be said for Angel Di Maria had he seen Manchester United's drab display in their draw with Sunderland on Sunday, and there is still plenty of encouragement for Liverpool that they can keep their rivals at arm's length in the race for the top four.
However, on this evidence City remain a level above the Reds, and it will require yet more rapid development under Rodgers to rein in the champions. With Jovetic adding another dimension to City's attack, and Fernando proving a fine alternative to Fernandinho in central midfield, Pellegrini still possesses by far the strongest squad in the league. If Liverpool are to prove they can bridge the gap, Balotelli will have to contribute much more than he ever managed at City.