Dwight Yorke
Football Expert
Manchester United 'painful to watch' and Louis van Gaal wrong over Wayne Rooney, says Dwight Yorke
Last Updated: 27/12/15 9:26am
Manchester United were "painful to watch" at Stoke and Louis van Gaal was wrong to drop Wayne Rooney, says Dwight Yorke.
Rooney was introduced at half-time on Boxing Day after goals from Bojan Krkic and Marko Arnautovic saw the visitors slump to a fourth consecutive defeat and fall to sixth place in the Premier League.
The result heaped more pressure on beleaguered manager Van Gaal and former United striker and Sky Sports pundit Yorke thinks the Dutchman made the wrong call.
"Leaving out your talisman, your captain in the most difficult situation; someone with the experience, although his performances have not been the greatest, I just felt it went against him and he [Van Gaal] got it wrong again this afternoon," Yorke said.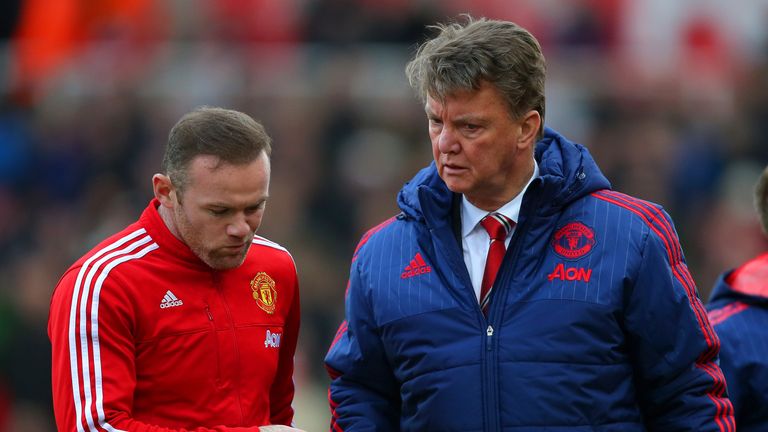 "I just think the timing was wrong. I think there have been so many opportunities probably to leave Wazza [Rooney] out and I just felt that in his most difficult spell as the manager of Manchester United, to leave your captain out, was a big call.
"He's [Van Gaal] a manager of a lot of experience and of course you have to make these calls but it certainly went against him today and I felt that was probably the wrong move, for Van Gaal's point of view."
United controlled possession and had twice as many shots on target than the home side, with Marouane Fellaini spurning a great chance to pull one back from 10 yards out late on, firing straight at Jack Butland.
And Yorke delivered a scathing verdict of United's display, which sees their winless run extended to seven games in all competitions, and criticised Van Gaal's failure to recruit match-winners.
"I have to say it was painful to watch Man United," Yorke said. "I felt that it was a team lacking in confidence. No sparkle whatsoever in that team.
I can't believe what my eyes are seeing. I'm seeing a Manchester United team with no spark and no desire.
Dwight Yorke
"I look at that bench to see if someone can come on apart from Wayne Rooney who can bring something, who adds something different to the team. They seem to be short in every department and Stoke took full advantage of us [United] this afternoon.
"Where are the likes of [Javier] Hernandez - people in the past like Ole Gunnar Solskjaer, who come off the bench to sparkle or to bring us back into the game? It just seems like we lack that.
"The players who have left the club and the players who have replaced them have not been good enough in my opinion. I think that is where the manager's downfall is, in the quality of footballers he has brought to the football club."
Yorke was equally critical at half-time and singled out Memphis Depay, whose weak header back to goalkeeper David De Gea led to Bojan's opener for Stoke.
"Depay's header is the worst diving header I've ever seen," said Yorke. "I can't believe what my eyes are seeing. I'm seeing a Manchester United team with no spark and no desire."