If Ryan Giggs wants to manage Manchester United, then he should leave - Peter Schmeichel
By Lyall Thomas
Last Updated: 25/05/16 2:30pm
Ryan Giggs should leave Manchester United and manage another club if he wants to one day take the reins at Old Trafford, according to Peter Schmeichel.
Giggs, who was assistant manager to Louis van Gaal, is stuck in limbo over his future at Old Trafford, with impending new boss Jose Mourinho understood not to want the former United winger as his deputy.
The Portuguese, who has agreed personal terms to succeed Van Gaal and is expected to be unveiled later this week, is believed to want Giggs in another role in his backroom staff, but it remains to be seen whether the 42-year-old will accept what amounts to a demotion.
But Schmeichel, a former United team-mate of Giggs, believes if the Welshman's ultimate ambition is to manage United himself he should learn the art elsewhere before making a return.
The former United goalkeeper told Sky Sports News HQ: "There are two sides; the club side and the Ryan side. I think Ryan's big dream is to one day manage United.
"To be equipped to do that, he has to go away and be a manager at other clubs - standing on his own two feet, making decisions, producing results, getting his own ideas in - rather than step-up from being assistant.
"I think, for him, it would be a good idea to go somewhere else. On the other hand, Ryan is a culture bearer. He is someone who has been at the club for a very long time, and it's so important that we have that within the staff.
"He is someone who knows what the club is, knows the tradition and history - knows everything about it. Whatever he decides, it's down to him and, whatever he decides, I think that will be the right decision.
"But I would like to see him go away and come back some day prepared for the challenge because we've seen that, in the last three years at United, it's a hard job to be manager there. It's not something you can just step up and do."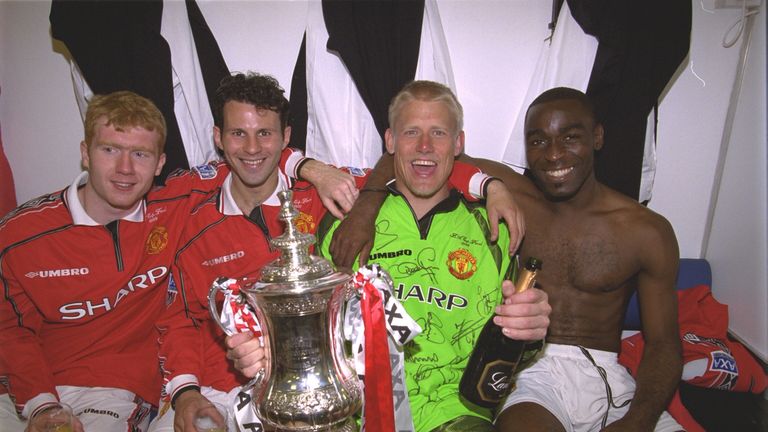 Another of his former United team-mates, Paul Scholes, believes Giggs' departure would be a "sad" day for the club, however, and is unsure what the former midfielder should do.
"If he left the club, I think it would be very sad," Scholes told Sky Sports News HQ. "He's been there 20-odd years and knows the place inside-out, how the club works and what kind of football is expected. It would be really disappointing if he did leave.
"It's all down to personal preference, it depends on Mourinho and what he wants Ryan to do - if he wants him to assist him like he did with Van Gaal - and what Ryan wants to do. If he wants to go away and manage then I'm sure he'll be very good at it.
"I hope Mourinho is the right man. Jose's been at big clubs and had success. He's won something at every club he's been at, and he'll be expected to do it again."