The League Managers Association (LMA) have announced that their 50th Manager of the Year award will be marked by the presentation of the Sir Alex Ferguson Trophy to the winner.
Former Manchester United boss Ferguson is considered one of the greatest managers in the history of the game, having been in charge at Old Trafford for 27 trophy-laden years.
And Ferguson says he is delighted to have given his name to a trophy which the LMA say rewards "the manager who has made the greatest use of the resources available in the current campaign".
The winner can come from the Premier League, Championship, League One or Two, and it will be presented at the LMA Annual Awards Dinner in London on Monday.
The new trophy has been designed and crafted by a team of expert silversmiths at Thomas Lyte, renowned London-based designers of sporting trophies, and it features the names of all the previous winners.
Ferguson said: "I am very proud to have the LMA Manager of the Year trophy named after me. It is a fantastic honour.
"When you look at the list of managers that have won this trophy, going right back to 1968, it is very humbling and a reminder of the various winners' achievements.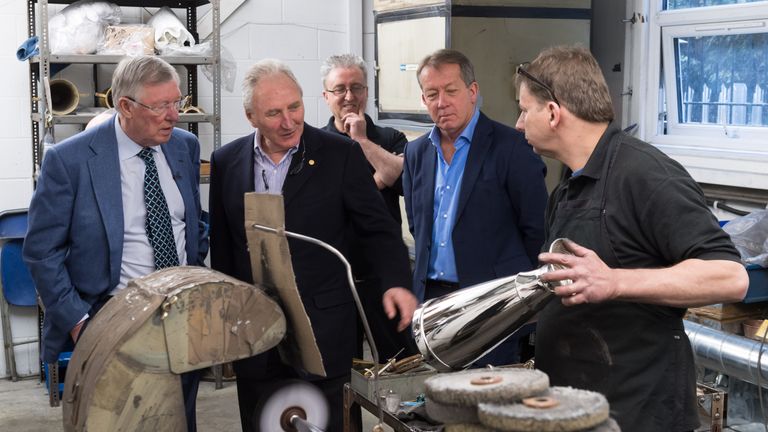 "There's no doubt that the likes of Sir Matt Busby, Bill Shankly, Bob Paisley, Brian Clough, to highlight just a few, were absolute legends, and left a fantastic legacy of how their teams played.
"And the current holder, Claudio Ranieri - what he achieved with Leicester City last year was nothing short of miraculous. He was a very worthy winner, there's no doubt about that."
LMA Chairman Howard Wilkinson, himself a former Manager of the Year, said: "There is no greater accolade than to have your successful endeavours honoured by your peer group.
"The names inscribed on this magnificent trophy will invoke memories of landmark moments in the history of English football.
"It will make all future winners feel especially honoured to have their name added to the trophy, thereby recording their own personal contribution to the chronicles of the game.
"Sir Alex is without question the association's most acclaimed, respected and universally admired member.
"The LMA is thrilled that the trophy bears his name, which guarantees its importance in sport."