Carrick - No time to ease off
Michael Carrick said Man Utd will not be complacent despite overcoming a tricky couple of months.
By Hayley Paterson
Last Updated: 10/03/12 12:09pm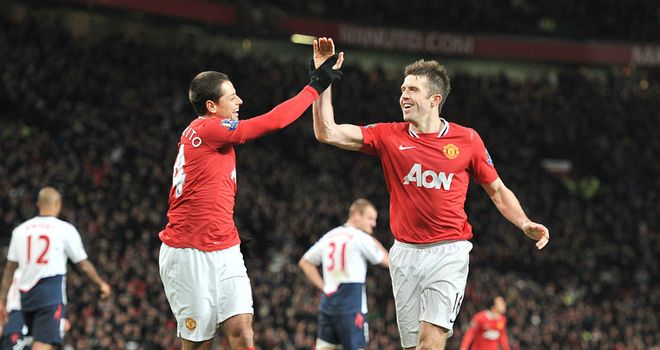 Michael Carrick said Man Utd will not be complacent despite a run of good league form against tricky opposition.
The Red Devils' defence of the Premier League title on paper appeared to be on shaky territory with two months of tough fixtures after Christmas, however United have stripped maximum points off Arsenal, Liverpool and Tottenham and come back from three goals down to draw against Chelsea.
But midfielder Carrick said the team need to continue their good form beginning with a home clash against a West Brom side that have taken scalps off several sides in the top half of the table.
"We are satisfied with the situation we are in," said the 30-year-old.
"But just because we have come through a tough two months doesn't mean we will sail through the next two nicely.
"We are not getting carried away and we are not taking anything for granted.
"We know how quickly it can come back and bite us."
Thrilling finale
With 11 games left and the blue half of Manchester two points clear at the summit, the league run-in looks to be set for another thrilling finale - one which Carrick said the Old Trafford outfit are all too familiar with.
"Since I have been here, we have always been up against someone, whether that is two team or three," he said.
"With it being City and so local, it does develop into something different.
"At the same time it is about winning games and focussing on ourselves.
"We enjoy this time of year. This is why we are all here, to try and win things. That is what we are trying to do."