Manchester United defender Patrice Evra says respect was important after shaking hands with Liverpool's Luis Suarez
Man Utd's Patrice Evra was glad his handshake with Liverpool's Luis Suarez passed without incident at Anfield.
Last Updated: 24/09/12 11:40am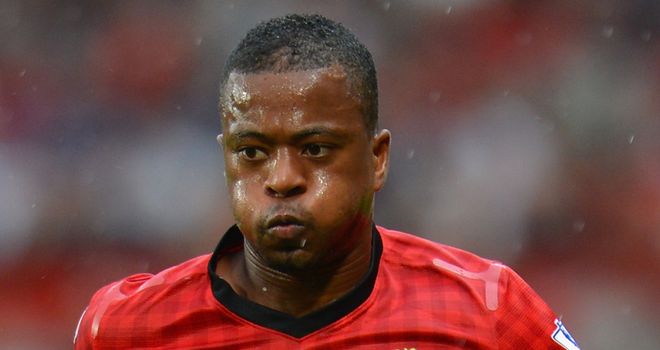 Almost 12 months after the bitter racism row between the pair first surfaced, they finally shook hands to end their personal dispute.
Ahead of Manchester United's 2-1 Premier League win over Liverpool, it was part of a sequence of events aimed at ensuring a significant day passed off peacefully.
It achieved its goal too, until long after the final whistle, when a couple of Liverpool fans ran across the main stand to goad the United contingent with a Munich gesture.
"The most important thing today was respect," said Evra. "It was a game between two big clubs.
"There was a big tragedy. People were talking about a handshake but the stories of the clubs is bigger than that. If I hadn't shaken Suarez's hand, I would not be respecting the stories of the clubs.
"In the end I am glad this time he shook my hand. More importantly, it was important to respect the families. It was not an easy day."
The response of the United fans to the taunts saw a section of the travelling supporters chant "Always the victims" and "Murderers" - reminders of the Merseyside club's own recent tragedies in Hillsborough and Heysel.
Rivalry
Social networking sites were flooded with responses as the bitterness spilled over.
Yet neither manager was able to shed any light on the matter.
And all Liverpool boss Brendan Rodgers could say was that the battle against those who let both clubs down will go on.
"What was done at the end I cannot comment on as I didn't hear or see anything," he said.
"There is an intense rivalry here and you don't want that to end because that is all a part of what makes this the biggest game in British football.
"But it is on the field where competition should be and everything else, songs from Liverpool or Manchester supporters, any of us that have any human decency don't like to hear that.
"The fight will go on if there is a continuation of that but certainly at this club the work that has gone on in the last couple of weeks is something I am very proud of and the tributes today were fantastic."