Manchester United winger Nani needs to be shown more support, says Braga boss
Nani will not be happy until he starts to play regularly again for Manchester United, according to Jose Peseiro.
Last Updated: 07/11/12 10:20am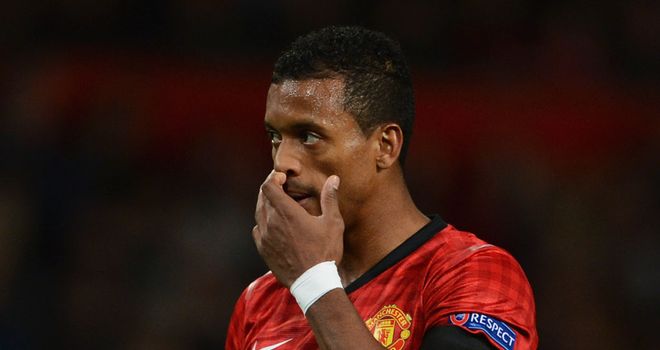 Peseiro, whose Braga side will face Manchester United in the UEFA Champions League on Wednesday, gave Nani his senior debut at Sporting seven years ago.
He has noticed that the Portuguese winger has not been playing a prominent role this season and believes he needs more reassurance and support.
"All players have a different personality. Some need an embrace and support, others don't need any support," Peseiro explained.
"Sure, the English players don't need too much support, but the Portuguese, Brazilian and Spanish players need more emotional contact.
"When Nani arrived at Manchester United he needed to forget this situation because he needed to play to the maximum and to fight for his place against others.
"Sir Alex Ferguson can't speak differently to him than to the others, but I know some players need more. Nani needs more, I think."
While Peseiro recognises that Ferguson cannot treat Nani differently to the rest of the squad, he does not think the 25-year-old will rediscover top form until he starts to enjoy life once more.
"After Cristiano Ronaldo left Manchester, he had two or three fantastic seasons and Manchester depended on him," said Peseiro.
"At this moment it isn't the same but Nani can improve more. But a player can only play at the maximum level when he's happy. If he's not happy, he can't."
Peseiro added: "I know him. If he doesn't play, it is not easy for him. He doesn't feel well when he doesn't play.
"I don't know why Nani doesn't play now. I know the team is good. Manchester United doesn't just have 11 players but 20 at the similar top level and it's hard.
"I don't know if the problem is that he doesn't sign another contract, if the coach has less confidence in him or if he just doesn't feel right at this moment."