Robin van Persie ready for challenge under new Manchester United boss David Moyes
Robin van Persie is looking forward to the challenge of playing under new Manchester United manager David Moyes.
Last Updated: 21/05/13 9:11am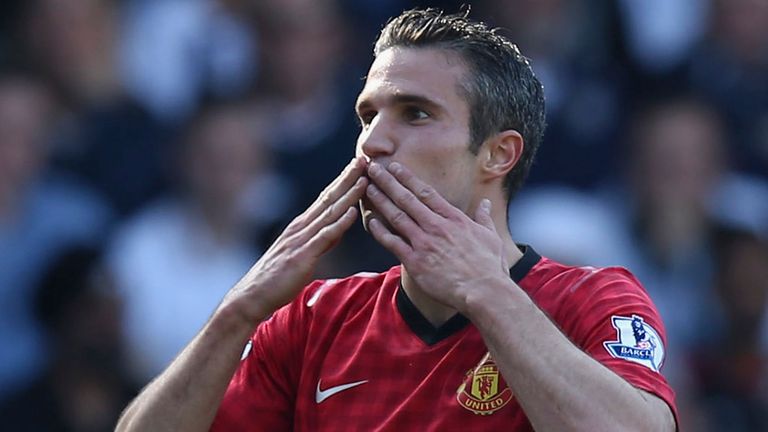 The Dutch striker joined United last summer from Arsenal and ended the campaign with his first Premier League winners' medal, and the division's top scorer.
Next term sees Moyes replace Sir Alex Ferguson in the United hot-seat and Van Persie does not expect the change in manager to derail the club.
"This is a great bunch of players," said Van Persie. "Everybody wants to work for each other and share the success.
"I'm 100 per cent sure we will play for trophies every year and, hopefully, win a few every year. That's our standard for this team.
"Of course, we get a new manager next year and everybody is looking forward to that. It's a new challenge for everyone. We'll have a nice break now and go again."
Van Persie is also not planning to rest on his laurels after winning his first title, adding to MUTV: "I am not thinking I have my medal and this is it.
"It tastes beautiful. But I know how it feels now and I want more. That is the idea of all the lads. It is a great feeling to achieve it. We can enjoy it.
"It only gives you the taste for more. Hopefully next season we can win the double.
"I do think it is important for a player to win medals. You play football to win. If you add up all those wins it has to end up in a big trophy."
The 29-year-old also expressed his gratitude to his team-mates for helping him to finish as the Premier League's top scorer for the second year in a row.
"The Premier League means everything and the Golden Boot is like a little bit extra, but I think they should make 25 of them because we do it together," he continued.
"It picks out one player, who scores 26 goals or whatever, but those goals are made by us as a team. I would like to share that trophy."