Phil Neville backs David Moyes to succeed as Manchester United manager
Phil Neville believes that David Moyes has all of the qualities needed to be a success as Manchester United manager.
Last Updated: 26/07/13 9:44am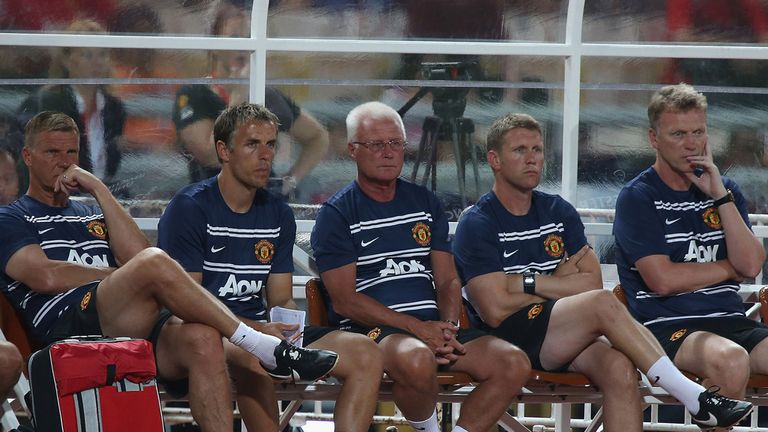 Neville returned to Old Trafford this summer in a coaching capacity, following eight years playing under Moyes at Everton, where he was handed the captain's armband.
Moyes has come under much scrutiny in his early days in charge of United, but Neville insists that the new boss is already having a big impact on the training pitch.
"David has been preparing for this job all his life and whether it has been at Preston or Everton, he has, at the back of his mind, always been thinking that one day he wanted to manage the best," he told The Sun.
"He has the drive and the determination and already he has the respect of the players. That is his strength - out on the training field when he is coaching the team.
"As a young coach, you can learn a massive amount from his sessions. The players have said that the structure and the way each session has a theme has challenged them. David is very hands-on and likes to do a lot of the coaching.
"It's not just about stamping his own style, but it is continuing the style we have got and that United demand while adding his own touches to it as well.
"He is from that part of Glasgow where they tell the truth and say it how it is.
"So if you are doing well he will tell you, if you are doing bad he will tell you - he won't sugar-coat anything. But he has a humble, human side as well which most Glaswegians have."
Neville retired from playing football at the end of last season, but was keen to follow in the footsteps of his brother, Gary, by going into coaching, and he says he was delighted to be able to continue to work with Moyes.
"It seemed like this was fate in a way - David got the United job and I came back home. I can't wait for the first game," he said.
"I am like a kid at Christmas, everything is new, everything is brilliant and my life has totally changed.
"The couple of days before pre-season when I knew I was coming back were probably the proudest days of my career.
"To finish my playing career and automatically go into a job like this has been perfect for me."