Steve Round confident David Moyes will be a success at Manchester United
Steve Round, David Moyes' right-hand man, is adamant that the Scot has what it takes to be a success at Man Utd.
Last Updated: 07/09/13 12:40pm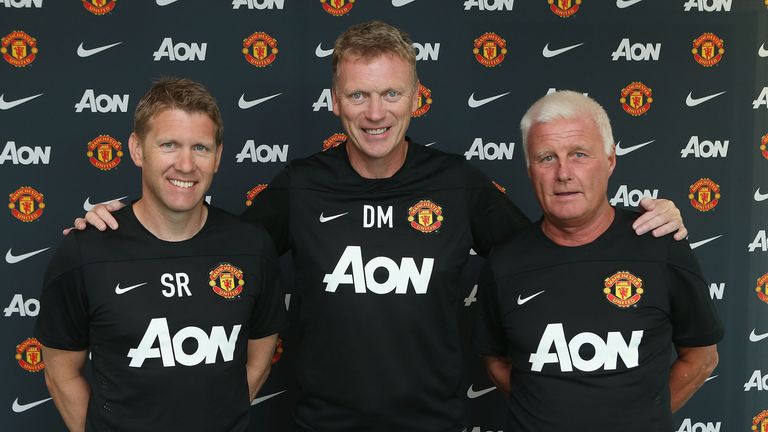 Moyes has accepted the unenviable task of following in the footsteps of the legendary Sir Alex Ferguson at Old Trafford.
He is keen to do things his own way, guiding the club forward rather than being weighed down by the past, but is already being forced to fend off uncomfortable questions.
United have won only one of their opening three fixtures in the defence of their Premier League title, collecting just four points and drawing a blank in their last two outings.
Round is, however, convinced that things will improve - with United having taken in some testing fixtures early on - and has no doubts that Moyes is the right man for the Red Devils.
He told the Manchester Evening News: "Without a doubt David was ready for this job. I had five years at Everton with him and he impressed me every day.
"There is not a day goes by where you take your foot off the gas with him. He is 100 per cent every day with an incredible work ethic.
"He also has an incredible desire to succeed. He now has the stature and presence to move to a club like this. I really do believe he will be a big success here.
"Now I have been in this club and environment I can understand why Sir Alex and the board appointed him, to keep that continuity, work ethic, drive and feeling about the club going.
"It was very important to them and I can understand now that I have been here and lived it. They were made for each other."
Credit
An inability to land a number of top targets during the summer transfer window has also put Moyes under pressure, but Round believes the acquisition of Marouane Fellaini from Everton represents good business.
He added: "He is a lot better footballer than he gets credit for and he has good passing ability.
"He doesn't have the same range as a Michael Carrick in his long passing but his continuity and the way he keeps the ball and short passing is very good.
"When you are building a squad to compete on all fronts you don't want every single player to be the same. You want options and differences. In a certain game it might be Tom Cleverley and Carrick in midfield, it might be Fellaini and Carrick, or Fellaini and Anderson. There are different permutations.
"It has given the manager options he didn't have before.
"Marouane was ready for this step up. He'll fit in well with the professionalism here and relish the challenge.
"He is a 10-15 goals a season man and that is good from midfield.
"He can play number four, sat in front of the defence, he can play an eight in the centre doing box-to-box and can play a number 10 where he drops off the front man. That's valuable when the range of games is so varied."