Arjen Robben dismisses Manchester United's chance against Bayern Munich
Arjen Robben insists that Bayern Munich have nothing to 'fear' against Manchester United.
Last Updated: 01/04/14 6:50pm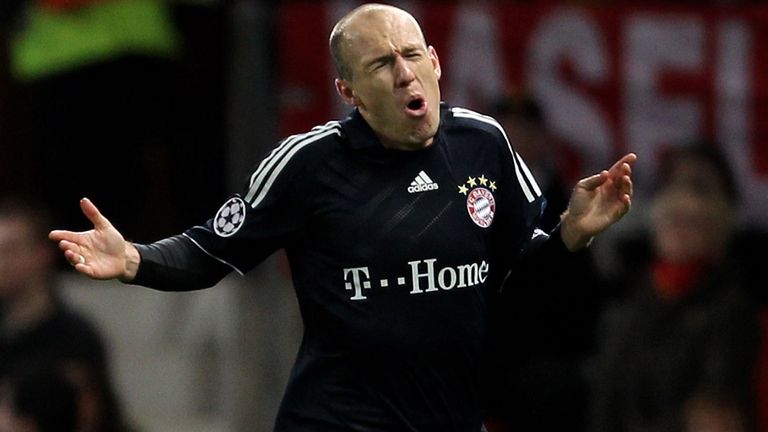 United host the European and German champions in the first leg of the tie on Tuesday.
Whilst United are coming into the game off the back of victory over Aston Villa - their season has been a woeful one, with the Champions League their last hope of any silverware and likely their only route into Europe.
But with their domestic title already sewn-up, Robben does not believe United will pose any threat to Bayern's quest for a second successive European crown.
"Bayern have no fear of United at all," he told the Sunday Mirror.
"Take our game against Schalke the other week. We played in such a high tempo, that we were 4-0 up within 30 minutes. We don't let our opponents come up for air. That is the Bayern of Guardiola.
"Guardiola has turned us into the most dominant team in Europe. We have made another giant step as a team this season.
"We are more dominant than we have been. From the very first minute we put massive pressure on our opponents and are capable of keeping the ball and putting them under pressure for the full 90 minutes.
"Guardiola is very demanding. He asks a lot from his players. Every day it is so intense. But I love that. Our playing style is even more attacking than last year. Then we used to play compact, and we let the other team come into our half sometimes, so we could hit them with the counter-attack.
"But this manager is tactically so strong. He is always pointing out where we can find the space to get one-on-one situations. He teaches us to make quick sprints and runs without the ball.
"So it becomes a total clockwork. It is fascinating to play in that system. The chances of winning more trophies in the next few years are huge."
Ready
Robben says that Bayern are looking forward to facing United.
"No team can have stroll to the final. We are facing Manchester United, a big name in world football. But we are razor sharp," he said.
"Our football is phenomenal and we want to show that more than anywhere in the Champions League.
"Playing United is the sort of thing that really gets the best out of me. We won the German League last week. But we were not even bothered about that. Nobody in the dressing room was talking about it. We knew ages ago we would win the title.
"Beating every team in the Champions League is our big thing. The Champions League is what we want again, especially after winning it at Wembley last year."
United defender Alex Buttner, who will start at left-back for United as Patrice Evra is suspended, knows he faces a tough task keeping Robben in check but says he he will not shy away from the fight.
He said: "I feel confident about playing them. I know what Arjen Robben can do and I am ready for him. I have watched him so I know how he plays.
"It is not under discussion how good he is. We all know that, but I want to do well against him. I will do everything I can to stop him."