Peter Schmeichel praises Manchester United over Louis van Gaal appointment
Former Manchester United keeper Peter Schmeichel has hailed the swift appointment of Louis van Gaal as their new boss.
By Dev Trehan
Last Updated: 21/05/14 7:47pm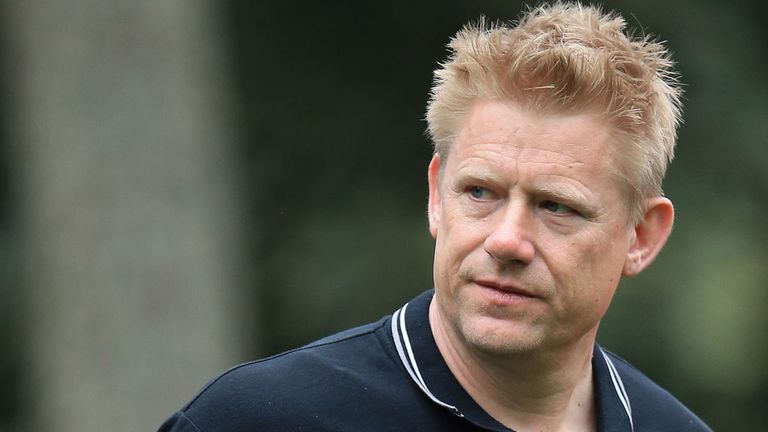 Van Gaal was appointed on Monday before jetting off to the Algarve where he is presiding over a week-long training camp with the Netherlands.
And Schmeichel believes the former Barcelona and Bayern Munich manager will instantly command the respect of United's players when he moves to Old Trafford after the World Cup.
"It was good to finally get it done and get it out the way because I think a lot of people needed to have that confirmation," Schmeichel told Sky Sports.
"It was important to put the minds of the fans at ease because Manchester United is too big an institution not to have a leader.
"I think van Gaal is the kind of guy who will instantly command the respect of the players. He has that kind of reputation and he is a guy who is very sure about himself.
"He knows his direction and knows exactly what he wants and some players won't like that but I think he's good for Manchester United. He is, to all intents and purposes, the guy that we need now."
Van Gaal replaces David Moyes whose ill-fated spell in charge at Old Trafford ended last month, but Schmeichel, who was speaking at Kick it Out's 20th anniversary dinner, believes the Scot was not entirely to blame for United's failings last season.
"I really thought David Moyes gave it an honest try but for a lot of reasons it didn't go his way and I think a lot of people need to share that burden of responsibility," he said.
"Of course the buck stops with him because he's the manager. That's the nature of the job so he has to carry the can but I thought he gave it an honest try.
"There are a lot of players that didn't perform to the level they should have and he was left a little in limbo with a lack of experienced support from upstairs because Ed (Woodward) was new as well.
"He's had another year under his belt so obviously he is more experienced now which makes it easier for the next manager. But unfortunately for David it wasn't meant for him. He tried and it wasn't just his fault."
Another former United keeper, Edwin van der Sar, has also backed van Gaal's appointment and expects his fellow Dutchman to sign the right players in the summer.
"Van Gaal will spend the right money on the right player to ensure that they are right for United," van der Sar told the Daily Mirror.
"He will know if they have the United DNA of the club inside of them. If not he will let them go and let them go to other clubs. You have to play and you have to fight for Manchester United. Not only come for the money.
"What's more important? £20k or £30k more a week or the privilege of playing for a coach like van Gaal?
"It's a massive club and if you are able to participate in that and to contribute to winning a title then you are settled for life because you have the adoration of the club.
"Of course it's going to be a tricky period for him with the World Cup deciding on what transfers he will need. But if anyone can cope with a situation like this it is van Gaal.
"His credentials in Spain, in Germany, in Holland with the national team speak for themselves. He has won the title in every country.
"He has a history of winning trophies, of bringing young players through, of working with big players.
"He is a very hard-working coach and he is a guy who makes players better. He also sends out the right signals about the kind of football he wants to play to the players."