Shinji Kagawa focused on Japan's World Cup bid, not his Manchester United future
Last Updated: 30/05/14 2:39pm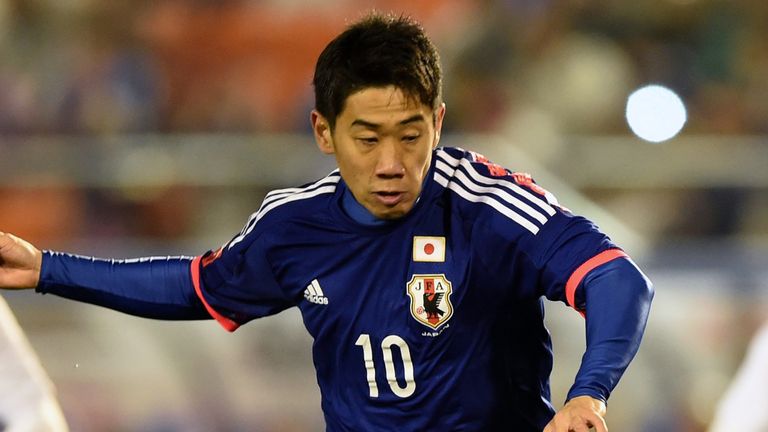 Shinji Kagawa insists he is focused on Japan's World Cup bid, rather than his future at Manchester United.
The 25-year-old has struggled to command a regular first-team place at Old Trafford since moving from Borussia Dortmund for £12million back in June 2012.
Kagawa has played a bit-part role under both Sir Alex Ferguson and David Moyes - and will only think about his future under new manager Louis van Gaal once Japan's Brazilian adventure is over.
Kagawa is keen to catch the eye on the biggest stage in world football - but insists that playing well for his country is his top priority for the coming months.
"I think everyone knows I want to do well at the World Cup, and I'm sure everyone else does, too," he told Kyodo news agency this week at Japan's training camp.
"But I don't want to get my priorities mixed up here - the important thing is for Japan to win at the World Cup. I'm not using the World Cup as a place to showcase myself for (van Gaal)."
Van Gaal's appointment, meanwhile, came as no surprise to Kagawa, who added: "We've known for some time it was going to be him. We've got the World Cup first so I'll deal with all that after this is over."
Kagawa made 23 United appearances in all competitions last season - and admits the World Cup kept him motivated when he found himself out of the first team.
"I basically want to keep doing what I did at Manchester United," he said. "I made sure I got the work in after games I didn't play in. I know how to get myself into shape.
"I was able to stay motivated despite the year I had because I had the World Cup to look forward to."
Japan are in Group C along with Colombia, Greece and Ivory Coast.