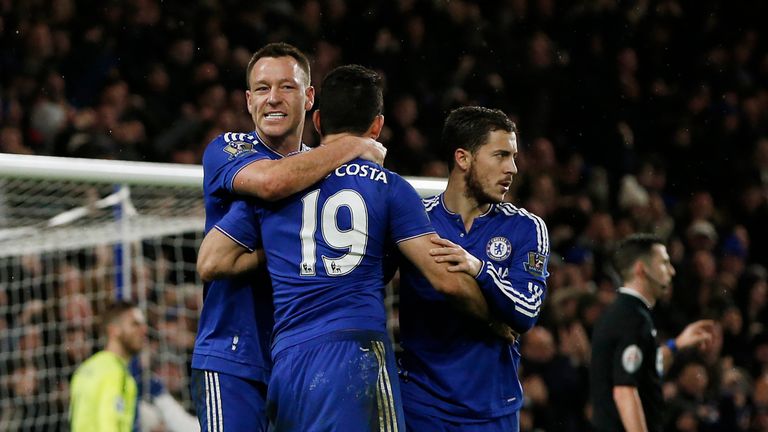 Thierry Henry and Graeme Souness agreed it would be a mistake for Chelsea to let captain John Terry leave in the summer.
After saying last week that his contract will not be renewed, the 35-year-old told Sky Sports after the 1-1 draw with Manchester United on Sunday that he wants to stay, but there has "not been any communication" between himself and the club.
Terry has been with Chelsea since the age of 14 and has racked up nearly 700 appearances after making his first-team debut in 1998.
"I don't understand how you can leave a man like that in the dark," said Henry on Super Sunday.
"How can you not sit with him and talk, say 'maybe we didn't find a deal for you yet', or 'let's see you again in a month'. The way he is talking it sounds like there is no communication.
"As soon as he said what he did last week, Chelsea were quick to say 'we are open to discussions'. I think whoever is dealing with the discussions didn't expect the reaction from the fans, but it's the right one. He has to be here. The guys they buy are not going to have the same influence he is having.
"His desire is there and he has been showing it for a long time. I cannot understand why you would keep that guy in the dark. You need him around. He has to stay."
Even at the age of 35, Terry has been a regular for Chelsea this season, starting in 20 of their 25 Premier League matches.
And Souness said: "I cannot believe John Terry won't be with the club next year. I can't think of one reason why they wouldn't want him.
It would be a mistake at every level if you get rid of John Terry. I can't think of one reason why they wouldn't want him
Graeme Souness
"If it's solely down to football reasons he has to be here. He's a leader and he wants to be here. You can spend all the money you want and buy the very best centre-half out there but he is not going to come into the dressing room and have the same influence.
"He might give you the same on the pitch but he will not give you what John Terry gives you in the dressing room. He has a reputation and credibility, which has been built up over 15 years in the first team.
"That does not happen overnight when you go out and buy an expensive player; he has to earn his stripes. No matter how much he costs. It would be a mistake at every level if you get rid of John Terry."
With Guus Hiddink in charge until the end of the season, it is not yet known who will be the next permanent manager of the club.
But Souness thinks it could set a dangerous precedent if they let Terry leave.
"The people making the decisions have to take on board that Terry is probably the main man in the dressing room and the go-to guy," he said.
"If he is being treated shabbily and they are pulling the curtain down and saying 'that's it, we don't want to negotiate or speak to you', other people in the dressing room will think, 'they can do that to John Terry, it could be me next'.
"It's a very dangerous road to go down. If it is John's time to go you have to let him exit with dignity and with his head held high. You can't just pull the curtain down on someone who was a main man at this club long before the present owner came here.
"The respect he has throughout the terraces and in the dressing room is enormous. John has life in him still, if you are a new manager you would want John Terry."