Lamps - Experience is key
Frank Lampard says Roberto Di Matteo must keep relying on the old guard if Chelsea are to have any chance of winning the Champions League.
Last Updated: 15/03/12 4:00pm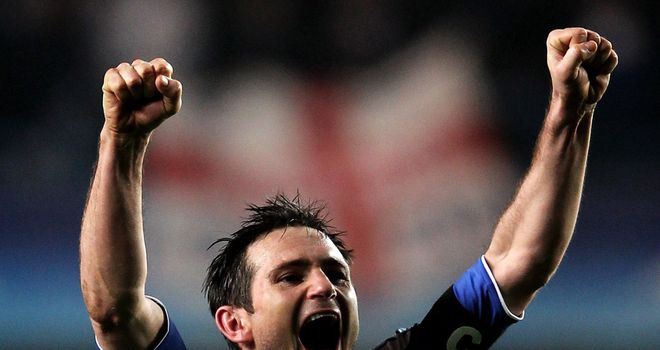 Frank Lampard believes Roberto Di Matteo must keep relying on the old guard if Chelsea are to have any chance of winning the UEFA Champions League, but he does not want to get drawn into the debate over whether the Italian should be handed the manager's job on a permanent basis.
Lampard was one of the experienced heads to shine on Wednesday night, alongside the likes of John Terry and Didier Drogba, as Chelsea pulled off a famous victory over Napoli.
All three scored in a thrilling 4-1 extra-time win that propelled Chelsea into the quarter-finals of the Champions League after they had looked doomed to crash out under Andre Villas-Boas.
Villas-Boas had reportedly not enjoyed the best of relationships with some senior players but interim boss Di Matteo has embraced them - literally after Wednesday night's game - and has reaped the rewards.
Lampard has now warned that Chelsea could forget about ending their long wait for Champions League success if they did not put a premium on experience.
"You can't win these sorts of competitions without that," the 33-year-old said.
"You're not talking about old boys whose careers are flitting out.
"They're players that want to play, players that want to win. You can see that.
"When you've got that, if you can add to that with the youth and the quality we've got around the team as well then that's a recipe and we have to carry on with that."
He added: "The amount of nights that Didi's stood up, the amount of nights that John's stood up, is what Chelsea are all about.
"If that can get us a result like that then we go with it."
Give everything
Lampard refused to be drawn on whether Chelsea would have performed like they did on Wednesday night had Villas-Boas not been sacked.
He added: "You see it time and time again when managers change, the fortunes of the team change.
"That's just the way it is - I don't know why.
"It's not whether it's right or wrong. We weren't performing consistently - that showed in the league - and the owner's changed the manager.
"But in terms of players, you just have to try to give everything.
"You can't ask players to be at their best throughout a season necessarily - because it doesn't work that way - but a night like that shows the desire of players.
"And with that, we can go a long way."
Heart on his sleeve
Lampard was also coy on whether Di Matteo, who has made a sensational start to life in the Stamford Bridge hotseat with three straight wins, should be considered as a full-time successor to Villas-Boas.
"That's for the club to decide," Lampard said. "He's done very well and he's had three wins out of three, so fair play to him.
"Robbie is a very 'Chelsea' man and he's shown that with his heart on his sleeve.
"He deserves that celebration."