Referee Mark Clattenburg set for quick return to Premier League action
Referees chief Mike Riley has revealed Mark Clattenburg will be officiating once again in the near future.
Last Updated: 23/11/12 6:02am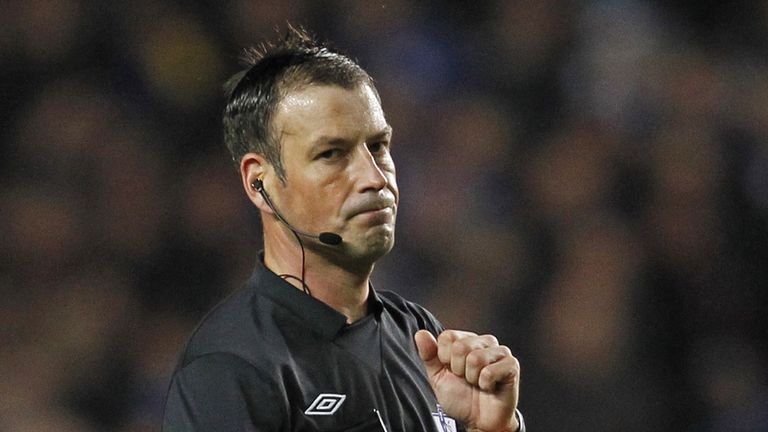 The 37-year-old is not on the list for this weekend's Premier League matches but he is likely to be in the middle for one of the games next Tuesday and Wednesday after being cleared of making a racist remark to John Obi Mikel.
Riley, general manager of PGMOL, told Sky Sports News: "Throughout this process Mark has been a dedicated professional. He has maintained his training plan and attended the select group meetings.
"He has prepared himself for the minute to come back into refereeing. He is looking forward to coming back into action."
Riley also confirmed Clattenburg would be considered for a Chelsea fixture in the future.
"Of course we will (consider him)," said Riley. "If you look at the things that we value in our referees, the high standard of professionalism, the integrity they bring to every game and the impartiality they bring to every game, Mark has all those characteristics in abundance.
"There is no reason why he or any of my referees cannot referee any team in the Premier League."
Riley has also welcomed the decision to clear Clattenburg and revealed PGMOL will now record the referees' communication system.
He said: "It is PGMOL's considered view that Mark is completely exonerated of the allegation and he will return to active duty shortly without any stain on his character or reputation.
"The verbal and visual facts do not support any of the allegations made against him. They make it clear that Mark did not use any inappropriate language towards any Chelsea player.
"Regrettably, Mark has had to endure four weeks that have brought massive disruption to his professional and personal life through no fault of his own. We are all relieved that this is now behind him and that he can return to doing something that he loves.
"To reduce the risk of an episode of this nature being repeated PGMOL will introduce recording of the referees' communication system on a private basis."