Oscar believes he can win 'the biggest titles in the world' at Chelsea
Oscar has set his sights on winning 'the biggest titles' with Chelsea, including this season's Premier League trophy.
Last Updated: 23/11/12 8:58pm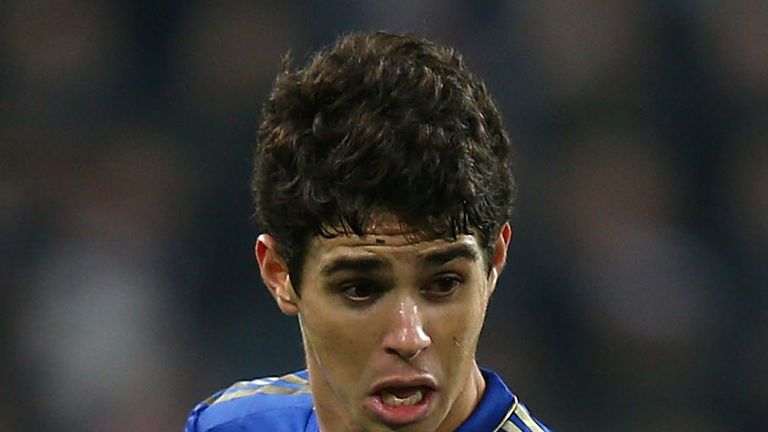 The young Brazilian has impressed for the Londoners since arriving at Stamford Bridge from Internacional in July, forging a key understanding with Juan Mata and Eden Hazard in midfield.
The 21-year-old says he joined the European champions to win silverware and is glad he decided on the Blues after attracting a host of interest in the summer.
He told FIFA's official website: "Chelsea were the best fit for me. They were the champions of Europe, playing in the Premier League, which is maybe the best league in the world.
"Chelsea also showed me they have a lot of ambition, and I knew it was the right club for me.
"I want to win the biggest titles in the world and I feel I can do it here. I'm very happy I joined Chelsea."
Chelsea currently sit third in the Premier League ahead of their visit of leaders Manchester City on Sunday, which will mark new manager Rafa Benitez's first game in charge.
Rivals
Oscar believes both City and Manchester United will be rivals for the title this season but expects Chelsea to beat them to the gong.
"City have a lot of excellent players and are the reigning champions, and they've become very adept at grinding out results," he added.
"But Manchester United have been there and done it time and time again.
"They're both excellent teams. However, I'm confident Chelsea will do it. We've got a different team to last season, so we're in a transitional period.
"I think as the season goes on, we'll get more used to playing together and play better as a result."
Oscar is enjoying playing alongside fellow summer signing Hazard and Spain international Mata in the middle of the park.
He said: "I enjoy it a lot. They're both superb players, among the best in the Premier League.
"It's always easier to play with players who are not only great but also intelligent. I think we link up well and that our styles complement each other.
"I think we give the supporters a good deal of entertainment."