Romelu Lukaku waits on Chelsea decision after West Brom loan ends
Romelu Lukaku says his future is out of his hands and he will wait to see what happens when he returns to Chelsea.
Last Updated: 21/05/13 9:59am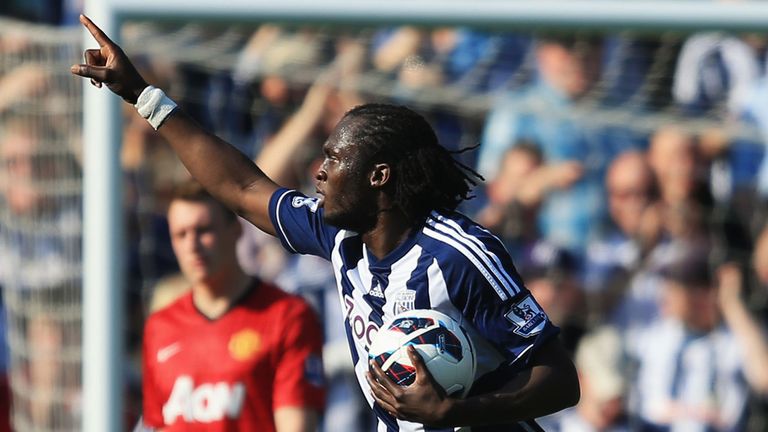 The Belgian striker has spent the season on loan at West Bromwich Albion and has made the most of the opportunity by scoring 17 Premier League goals.
West Brom are keen to have the 20-year-old back at The Hawthorns next season, while Swansea City have also been linked with a loan bid as Lukaku awaits a decision on his future.
"It is out of my hands now," said Lukaku in the Express & Star.
"I will go to the internationals, go on holiday with my friends and my missus and come back and train hard with my dad and then go to pre-season with Chelsea.
"We will see what happens. This club will always have a place in my heart. It's the club that put me in the spotlight and re-launched my career."
The former Anderlecht youngster has enjoyed his time with West Brom and is determined to build on his impressive year next season.
He added: "I've had a great season and now I want to do better. After last year a lot of people doubted me but I kept believing in my qualities and worked hard.
"With the help of the West Brom fans and this club I just couldn't fail here. From day one I have felt at home, I felt like I was back in Brussels. That's why I have performed so well.
"They have helped me through the good and the bad days. I was really convinced the team would have a good season. It's been wonderful to be here."
West Brom boss Steve Clarke is hoping that, if Chelsea do let Lukaku go out on loan again, then a return to the Midlands could be on the cards.
Clarke said: "Rom will go back to Chelsea and, if Chelsea decide to let him out again on loan, I hope we have got a really good chance of bringing him back here."
However Baggies goalkeeper Ben Foster says Chelsea should keep hold of Lukaku, particularly after he scored a hat-trick in Sunday's 5-5 draw against Manchester United after coming on as a half-time substitute.
Foster said: "There's no way he's coming back here next season. Chelsea would be fools to let him come back with the way their forward line is misfiring.
"He is exactly what they need at the minute. He was unplayable. As soon as he came on you could see that United were scared of him.
"He scored a hat-trick and we drew the game 5-5 so it was a fitting send-off."