Chelsea boss Jose Mourinho says Premier League return makes him 'The Happy One'
Jose Mourinho rebranded himself 'The Happy One' as he faced the press at Chelsea and said: "I'm where I want to be."
Last Updated: 10/06/13 6:01pm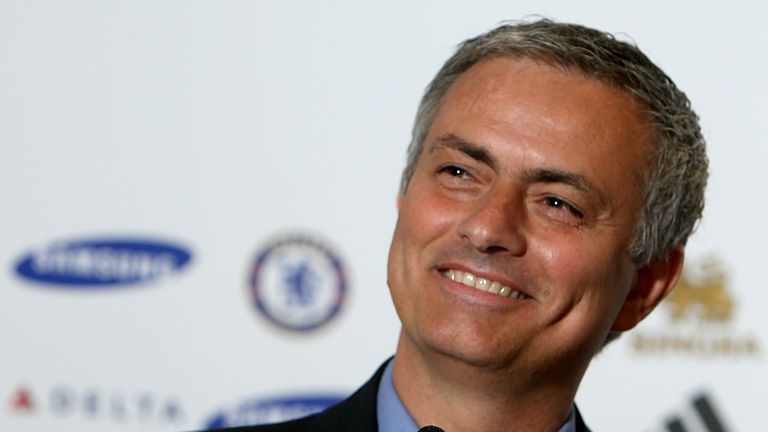 Nine years since he first swaggered into English football and coined his own nickname 'Special One', Mourinho addressed the assembled media and claimed he would rather be at Stamford Bridge than anywhere else - even Manchester United.
And the 50-year-old was quick to deny suggestions it was a breakdown in his relationship with Roman Abramovich in 2007 which curtailed his first spell in charge.
Asked whether he is still a 'Special One', Mourinho said: "I am 'The Happy One'. I am very happy.
"If I have to describe myself, I would describe myself as a very happy person because it's the first time I arrive in a club where I already love the club."
Asked about Manchester United's decision to look elsewhere for a successor to Sir Alex Ferguson, he said: "I am where I want to be. I wouldn't change it for anything. It is my job."
Mourinho won five major trophies during his first period in west London before leaving in what was officially described at the time as a mutual agreement.
And he told the media he had no need to build bridges with owner Abramovich before agreeing a return from Real Madrid.
"I keep hearing that I was fired," he said, "that we had a complete breakdown of our relationship - that was not true.
"Many didn't believe that but it was a mutual agreement. We thought it was best for both of us, for me and the club.
"It was difficult for both of us but it was made by mutual agreement. Only because there was never a breakdown of the relationship is it possible for me to be here today.
"I think I'm back because we are in the best moments of our careers and ready to work together again. There are much better conditions at this time to succeed and have what we want, stability."
Against that backdrop Mourinho, who has signed a four-year contract, is targeting success on a grander scale second time around.
He said: "I want to believe that's possible. I always trust my work.
"In this case I know many of the people that belong to the club and I know the kind of mentality people have here and my career was built and based on success where I was able to reach success and to win trophies.
"I want everyone to work hard, work with quality. The club means much more compared to ourselves. We are no one without the club. If we work well success will arrive."