Premier League: Chelsea's Eden Hazard earns Jose Mourinho praise after win at Hull
Jose Mourinho paid tribute to Eden Hazard after he inspired Chelsea to a 2-0 victory over Hull City at the KC Stadium.
Last Updated: 12/01/14 7:56am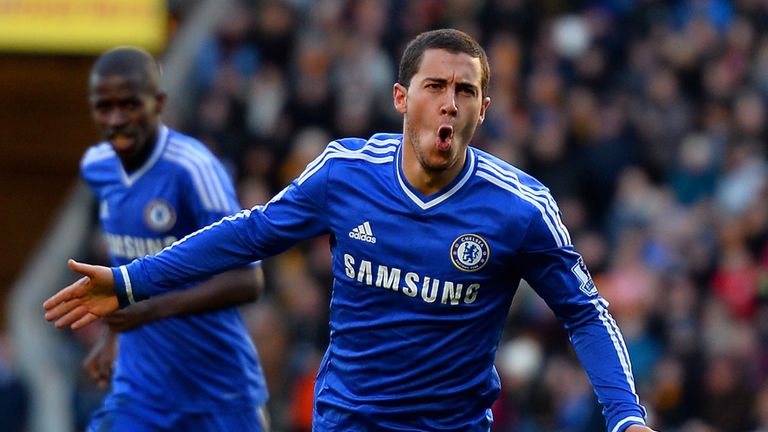 The Belgian has been an influential figure for the Blues all season and has been in particularly fine form over the past few weeks to help them climb to the top of the Premier League.
He opened the scoring against Hull with a wonderful run and shot, before Fernando Torres doubled the advantage late on.
And Mourinho believes Hazard has matured since he arrived from Lille in 2012 with a hefty price tag of more than £30million, developing from raw prospect to proven performer.
"The club made a big investment on him...to bring a player from France and pay the amount Chelsea did is because Chelsea trusted the player a lot," said Mourinho.
"But he is not a talented kid any more. He is now more than that. He is a player who feels and accepts the responsibility, feels and accepts that a team player is more than a talented player and he has done it without losing his fantastic ability and fantastic talent.
"The kid is in a very good moment of his career."
Mourinho also made an early case for his man to receive individual recognition.
"Three consecutive times he is man of the match, which is something nice. Let's see if the Barclays Premier League decides to give him player of the month," he added.
"Maybe they don't like to go to Cobham because the kid is waiting but the trophy is not arriving."
Chelsea had to work hard in the first half against Hull but gradually started to control the game and Mourinho was satisfied with the display.
"It was another good performance - very stable, very calm," he said. "In the first half they controlled us very well and defended well. They changed their system to adapt to us: they pressed a lot, they were compact, so we couldn't create a lot of chances, but we didn't open up too much or get frustrated.
"We never lost our balance, we kept our shape tactically, and we didn't give them opportunities to score. In the second half when we had a little bit more of the ball we intensified the game and recovered the ball higher, so I think normally the tendency would be for a goal.
"After that goal I was happy because we were in control, we didn't go to defend. We controlled the game well, and I think the second goal for us was more likely than a goal for them, and when we scored the second goal it was game over."
Mourinho refused to get carried away with Chelsea's position at the top of the table, with Arsenal and Manchester City still to play this weekend, but admitted he was happy with their progress.
He said: "It's important because it helps the players to be better and stronger and to grow up faster. To play under pressure, when you're near the top of the league like we are, is good.
"All the players are stable in their performances, the younger players are improving a lot and the team is getting better, so that's a consequence of the work everyone is doing.
"Do we like to be leaders? Yes, we like, but maybe tomorrow we are second and maybe Monday we are third. The important thing is that we all know we are going in the right direction."