Premier League: Jose Mourinho says Manchester United are 'not happy'
Jose Mourinho has stated that he understands Manchester United are 'not happy' with their current plight.
By Graeme Bailey - Tweet me: @graemebailey
Last Updated: 19/01/14 3:16pm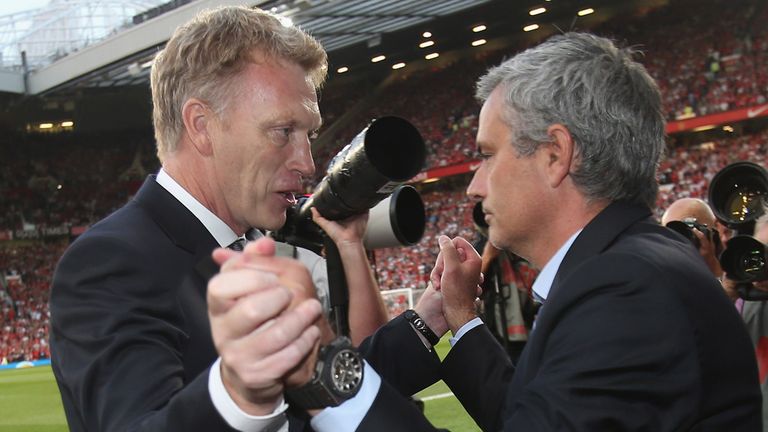 However, the Chelsea boss also insisted that he does not think David Moyes' position at the club is in any doubt.
Mourinho's Chelsea host United as part of Super Sunday this weekend, and the Blues go into that tie challenging for top spot - but the Red Devils are down in seventh, some five points adrift of the UEFA Champions League places.
And Mourinho has revealed that 'inside information' tells him that all is not well at Old Trafford.
"My feeling, which is based on years of communicating with Sir Alex and some inside information, is Man United are not happy, but they are calm," he is quoted by the Daily Mail.
"They trust David. David trusts them. I don't think David is under pressure.
"The pressure is something virtual. It is something that comes from the media as a consequence of not having the best results.
"The most important thing in all of this is not the pressure that comes from the outside, it's the reality of the inside.
"The manager is calm and they are thinking this is our manager for the next two, three, four, five years.
"So they're all together and are going to rebuild again a big team. The bad results will finish.
"They will get back on track, although it is probably too late to win the league because they're too many points behind the leader."
Title battle
Switching to United's local rivals Manchester City, Mourinho believes they are Chelsea's main rivals for the title and he thinks beating them to the title would be the 'greatest achievement' in his career.
"It would be my greatest achievement if we beat them to the title this year," he said.
"We were champions before but we were the team to be champions, the team to attack the title, especially in our second season when we killed it from day one.
"This is a team in development and if you win titles in this time, it is not handed to you. It would be a super achievement. But we are not worried about that right now, just thinking about improving every day.
"City, in terms of power of the squad, are in another dimension. You can't compare their situation with any other club. Some people disagree or some managers feel they shouldn't say it but I say what I feel. City are different."
Watch Chelsea entertain Manchester United live on Sky Sports 1 this Sunday from 3.30pm.