Transfer news: Jose Mourinho rules out move for Zlatan Ibrahimovic or Edinson Cavani
Jose Mourinho does not believe that Paris Saint-Germain will be willing to sell Zlatan Ibrahimovic or Edinson Cavani.
By Graeme Bailey - Tweet me: @graemebailey
Last Updated: 25/02/14 8:15am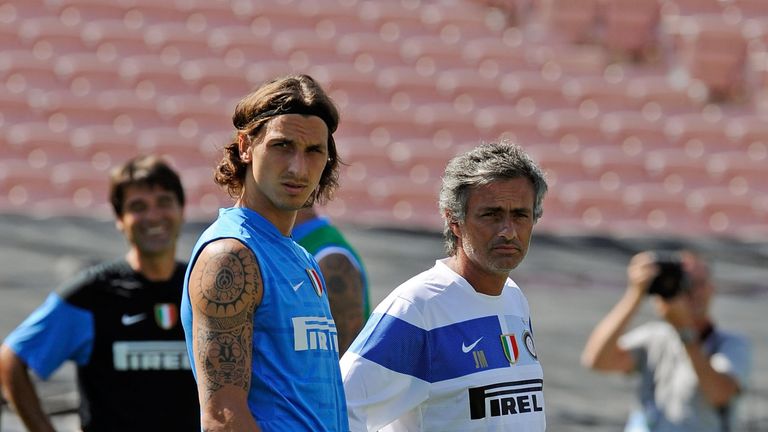 A new striker appears to figure prominently on Chelsea's transfer radar this summer, with question marks hanging over the respective futures of their current crop of frontmen - Fernando Torres, Samuel Eto'o and Demba Ba.
Ibrahimovic, and in particular Cavani, have been linked with Premier League switches this coming summer, but Mourinho does not think that PSG will do business.
"Ibrahimovic? It's impossible," the Portuguese coach told Canal+ about the player he coached at Inter Milan.
"He's happy in Paris. I know because we're in contact, we're friends.
"With their financial potential, I don't think Paris will ever open the door for him to leave.
"Cavani is a very good player. But Paris paid a lot of money for him and he has an amazing contract."
While on the subject of PSG - who have been strongly linked with Chelsea's Eden Hazard - Mourinho insisted that his Belgian ace would be staying put.
He was asked if Hazard could be swapped with Cavani, but he said: "No, Eden is our lad.
"We want to build the team around him, he is both the style of footballer and the sort of man we want to have," he added.
PSG
Mourinho himself had been strongly linked with PSG prior to his decision to re-join Chelsea in the summer, but claims he was not in the frame for the role.
"I never said yes or no as I didn't have a real or direct offer. We have a relationship (with Qatar officials) and I have been honoured to be welcomed in Qatar three or four years before they bought PSG," he said.
"We have a respectful relationship, but after Real Madrid, I told everyone what I wanted to do was to go back to England."
Mourinho admits that he could move to France in the future, but the league would need to improve.
"I want to stay at Chelsea, I have a four year-contract, then we will see," he said.
"Maybe I could work in France in the future, why not? But currently I believe it is a league that doesn't have the same emotion as England.
"It is a league where it is easy to know who will finish in first and second positions and at this moment in my career I need a bit more."
Meanwhile, Mourinho admitted after the interview - in a conversation that was also broadcast on Canal+ - that he felt their chances of winning the Premier League were hampered because of a lack of a striker.
"Will we win the title? No, we don't have any scorer. Samuel Eto'o? He is 32-years-old, maybe 35, I don't know. Hiring Radamel Falcao? It is impossible.
"I have a team but I don't have Falcao and Falcao has no team. He is playing in front of 3,000 fans."