Unhappy Chelsea manager Jose Mourinho expected to appeal against fine - Sky sources
Sky sources understand Chelsea boss Jose Mourinho is unhappy after he was fined by the FA and he is expected to appeal.
Last Updated: 10/04/14 6:33pm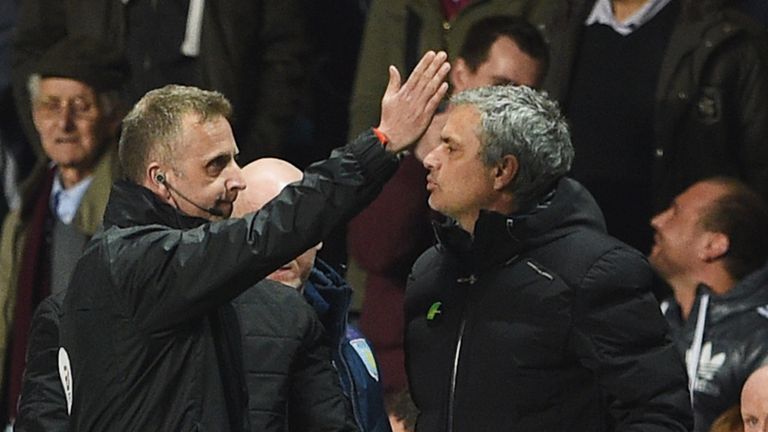 Mourinho was fined £8,000 by the FA and warned as to his future conduct after re-entering the field of play during last month's Premier League game with Aston Villa.
The Portuguese came onto the pitch to remonstrate with referee Chris Foy towards the end of his side's 1-0 defeat at Villa Park on March 15.
Mourinho requested a personal hearing, which took place on Wednesday, but the independent regulatory commission found him to be in breach of FA rule E3 and decided to punish him for his actions.
However, Mourinho is still unhappy with the verdict and is waiting for the commission's written reasons before appealing against the ruling.
Chelsea ended the match against Villa with only nine players after Willian and Ramires were sent off, with the second dismissal leading to the incident with Mourinho.
Ramires received a straight red for a two-footed challenge on Karim El Ahmadi, with Mourinho then coming onto the pitch to speak to Foy, who subsequently sent him to the stands.
Mourinho has already been in trouble with the FA over a similar incident earlier in the season, when he was sent to the stands in the 4-1 home win over Cardiff in October - the Portuguese accepted the charge and was also fined £8,000 on that occasion.
The defeat to Villa was the first of two straight losses on the road, with Chelsea going down 1-0 at Crystal Palace on March 29, a result that led an angry Mourinho to declare his side were out of the title race.
"Can we play against Aston Villa again? No. The momentum was broken. Somebody broke the momentum," he said.
"The other matches we lost because we didn't play well. You find the natural reasons for losing a match.
"If you go to the Villa match, it's difficult. What happened in the defeat against Villa I never learn, I never accept.
"Somebody was very successful in putting a hurdle in front of us. And we crashed the hurdle against Aston Villa and we lost.
"Villa was not a normal football match and we always hope that football matches are normal."