Premier League: Chelsea captain John Terry to keep going in title race
Chelsea captain John Terry acknowledged it will still be 'very tough' to win the title following a 1-0 win at Swansea.
Last Updated: 13/04/14 7:04pm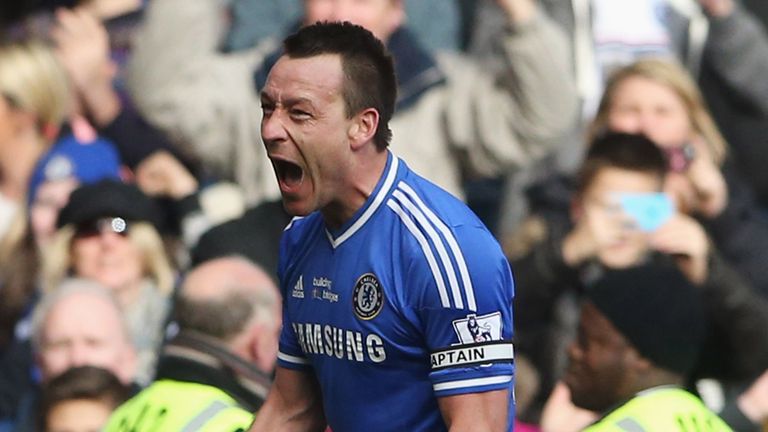 Jose Mourinho's side ensured they remain two points behind Liverpool, who beat fellow title rivals Manchester City 3-2 at Anfield earlier on Sunday.
The Blues travel to Liverpool in a fortnight's time, but even victory on Merseyside would not put the title destiny in their hands as City would then be in a position to capitalise.
Terry outlined the importance of continuing to win games after Demba Ba's second-half goal was enough to secure the points away to 10-man Swansea.
"It's very tough," Terry told Sky Sports. "It's very important we keep winning our games, but it's out of our hands at the moment.
"We need City to lose or draw a game and we've still got to go to Anfield, so it's a massive end to the season for everyone.
"Looking at the result [at Anfield], it's probably the one we wanted really, even though Liverpool are flying.
"But the manager said before the game that, regardless of that result, if we don't win our games, it makes it very easy for them. We won our game and the pressure is still on the teams above and below us."
Chelsea face Sunderland at home next weekend before the game against Liverpool and Terry insisted that manager Jose Mourinho will not allow the players' focus to wander.
He added: "The manager won't let us run away with it. We've got a few days to prepare for the game against Sunderland and that's our big focus.
"They are fighting for relegation as well, so between relegation and fighting for the title, we have to be a lot hungrier than them."
Terry also praised referee Phil Dowd for sending off Swansea defender Chico Flores for two bookable offences in quick succession following fouls on Willian and Andre Schurrle.
"That's a second yellow for me and he gave him one a couple of minutes before on the halfway line," said the centre-half. "The one outside the box is even more of a yellow than the other one.
"Fair play to Phil, the ref, it's a big decision to make early on and I thought he made the right one, so credit goes to him for that."
Match-winner Ba struck decisively for the second time in a week after his goal against Paris Saint-Germain earned a 2-0 win which sent Chelsea into the semi-finals of the UEFA Champions League.
Ba said: "It's not been a bad week. I'm happy for the team and for me. I knew I would get the opportunity to come in and do something.
"It is going to be a great end to the season for us and the fans."