Jurgen Klopp backs Liverpool's Mohamed Salah to flourish in England second time around
By Nick Lustig
Last Updated: 18/07/17 11:10am
Jurgen Klopp is convinced Liverpool's Mohamed Salah will become the latest player to return to the Premier League and show his true qualities.
Salah is back in England following two years away in Serie A having completed a £34.4m move to Anfield in June.
The 25-year-old endured a difficult first spell in the Premier League with Chelsea and struggled to make any real impact before going on to score 34 goals during his time with Fiorentina and Roma.
Klopp, who revealed he wanted to sign Salah during his time in charge of Borussia Dortmund, believes the Egypt international can flourish second time around, citing former Chelsea midfielder Kevin De Bruyne's form at Manchester City.
"A lot of players have shown it is quite easy to struggle at Chelsea. (Kevin) De Bruyne is one," the Liverpool manager said.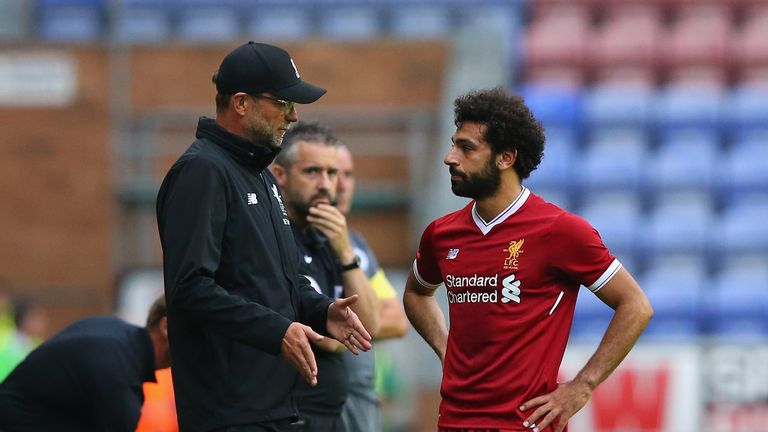 "The only thing that we really ignored was what he did at Chelsea. When he was at Basel, we (Dortmund) played them and it was 'what the f***!'. It was unbelievable. The moment I said 'let's go for him' he was already at Chelsea.
"Then he struggled at Chelsea because it was too early... The question is 'what did you not see in him?' because he played all-inclusive football.
"He was quick, he played a lot of games, he created goals and chances and he scored by himself."
Klopp also believes that the addition of another left-footed player will benefit the squad ahead of the new Premier League season.
"He is left-footed and we don't have too many of them in the team. It all makes him really valuable for us," Klopp said.
"I'm happy for the moment but he needs to learn a lot. We have to start working on the physical part and the technical part."