Philippe Coutinho has been left out of Liverpool's squad for Saturday's Premier League fixture at Manchester City, live on Sky Sports.
Reds manager Jurgen Klopp said the Brazil international, who was the subject of three failed transfer bids from Barcelona during the transfer window, was in "a good mood" after returning to Merseyside following international duty.
Klopp held a meeting with Coutinho and said they were both in agreement that he must build up his fitness before being considered for the first team.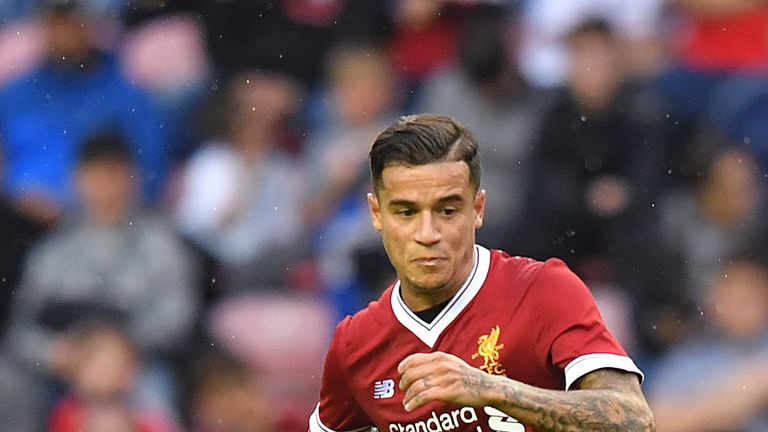 "We had a very good talk," said Klopp. "He was in a very good mood and training was even better.
"But I had to make a decision. We have seven games in the next three weeks so there will never be time really to train.
"Before [Coutinho] went to Brazil he couldn't train for about three weeks. That means we have to prepare him for the rest of the season, which is quite difficult with our fixture schedule.
"So I decided to leave him out of the squad for City. We can use these four or five days for real and proper training.
"We got all the numbers from the Brazilian FA around the intensity of training and stuff like this.
"That was all okay but he played twice, for around 15 or 20 minutes I think.
We have a wonderful player in our squad who wants to get fit and play for this club.
Jurgen Klopp on Philippe Coutinho
"He could have played 15 or 20 minutes again in the City game, maybe longer, but I think it makes sense [to omit him].
"He agreed completely. It was a good conversation."
Klopp believes Liverpool handled the speculation over Coutinho's future "really well" and says his relationship with the player remains strong.
"He came in on Thursday and 100 per cent accepted the situation," said Klopp. "I didn't even have to say anything about it.
"We have a wonderful player in our squad who wants to get fit and play for this club. We don't know how long anybody will play for the club, sometimes we want to send players away and also sometimes players think about their futures.
"That's a normal situation and there's absolutely no problem."