Liverpool's Fab Four: Could Sadio Mane's return be the catalyst?
Last Updated: 30/09/17 6:02pm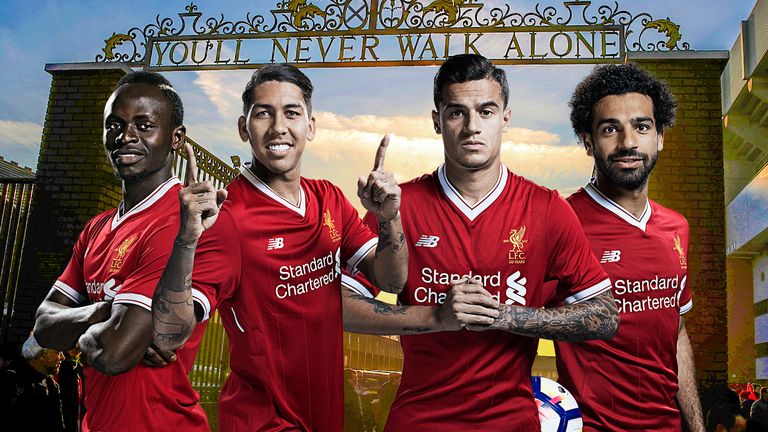 Could Sadio Mane's return alongside Philippe Coutinho prove the catalyst for Liverpool? With the help of Phil Thompson, Adam Bate looks at the possibilities - and the problems - for Jurgen Klopp...
"Now I am excited, because we have all of the boys here," said Jurgen Klopp on Monday. Finally, his 'Fab Four' were all available. "They all have to fit together and that is what we have to try. It is not about being spectacular, it is about being clinical and having perfect timing. We cannot just bring in all the artists - but if it fits together, we will do it."
Against Spartak Moscow on Tuesday night, Klopp duly fielded Mane and Coutinho in the starting line-up together for the first time this season - and for the first time ever alongside Mohamed Salah. With Roberto Firmino up front, this was the forward line that fans had been waiting for. Even so, Liverpool were still held to a 1-1 draw in Russia.
"It is not lining up players and hoping something will happen," said Klopp afterwards. "They all need rhythm and need to be in good shape and all that stuff. It was a very intense game. For me it's not about the names, it's really about how we can perform. In a lot of moments we performed as good as possible, in a lot of moments not. We have to keep on working."
While much of the focus was on goalkeeper Loris Karius and Spartak's first-half free-kick that somehow eluded him, Liverpool paid the price for their wastefulness at the other end too. They scored from only one of their 11 shots from inside the box. It is a similar story in the Premier League where their conversion rate is significantly inferior to the top three.
Of course, there were still plenty of positive signs too - in particular, the link-up play between the team's star players. Coutinho's one-two with Mane in scoring the equaliser, for example, showed what Liverpool have been missing when unable to get their two key men onto the pitch together. The potential is obvious. But so is the problem.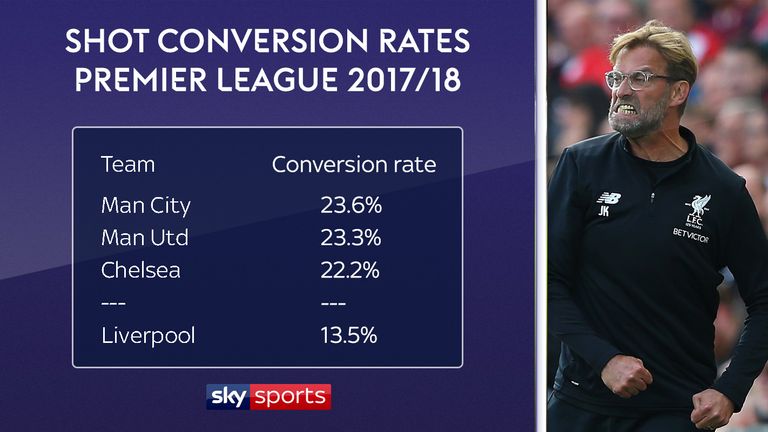 "The front four are as good as anybody in the game and it is thrilling to watch," former Liverpool captain and coach Phil Thompson tells Sky Sports. "They are like all good attacking No 10s and you would be looking to get 10 to 12 goals out of each of them. The problem is that you still need an out-and-out goalscorer.
"Other than at Man City where there were mitigating circumstances, I don't think there is a game this season that we should not have won. You see Alvaro Morata, Romelu Lukaku and Harry Kane all scoring in the week, all the other top sides have an out-and-out striker they can rely on whereas we are asking a lot of the team to get forward and create chances."
Any hope of Daniel Sturridge being that player has long since faded but whether through suspensions or mysterious back complaints, he has not been the only man missing. Klopp has been keen to stress that he has the squad depth to cope in multiple competitions but it appears clear that Liverpool are much more reliant on their best players than their rivals.
There was some evidence of that problem even prior to Salah's arrival in the summer. In the 16 Premier League games that Mane, Coutinho and Firmino started together last season, Liverpool picked up 2.13 points per game. In the 22 games in which one or more of the three men were missing, they picked up only 1.91 points.
But that does not tell the full story because the forwards do not act in isolation. It is no use having an array of attacking talent if undermined by the defence and there is a feeling that this has happened too often at Liverpool. The two Premier League games that Liverpool have lost with their three key forwards on the pitch are both examples of that.
Away to Leicester in February, Lucas Leiva was exposed by Jamie Vardy at centre-back. At Hull earlier that same month, he had struggled in the role as the Reds were punished on the counter-attack with their relegation-bound opponents picking up an unlikely win. The much-maligned Dejan Lovren not only missed both of those games but was undoubtedly missed.
It's not just about the 'Fab Four' committing, it's Emre Can and Jordan Henderson pressing high up the field too along with the full-backs. It does not take a genius to see that it is going to put pressure on the centre-backs.
Phil Thompson
Thompson believes the strain on the defence is too much. "It is a concern for me, especially if you do not play compact," he explains. "The high press is great but I would rather see it done around five or 10 yards into the opposition's half. That is where you press to keep your midfield and defence closer, rather than harassing teams 20 yards into their half.
"It's not just about the 'Fab Four' committing, it's Emre Can and Jordan Henderson pressing high up the field too along with the full-backs. It does not take a genius to see that it is going to put pressure on the centre-backs. If the opposition can get past the press, you are always going to be light at the back, especially if your defenders are not of the highest quality."
So are Liverpool's flaws systemic? While the issues have been apparent regardless of the identity of the centre-backs, their record suggests that pairing Lovren with Joel Matip makes a difference. Liverpool have lost only one of 21 Premier League games with the two starting together and are unbeaten in nine games with the front three also in the line-up.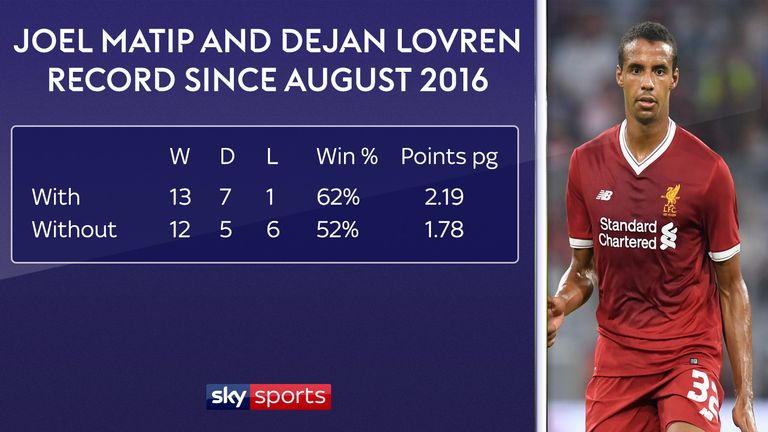 Throw Salah into the mix and the hope will be that they can become even stronger. As shown by the result in Russia, it will take time to find what Klopp calls their "rhythm" but the potential is there. Firmino can occupy defenders, Mane and Salah provide goals from the flanks and Coutinho can exploit the space that the movement ahead of him creates.
Klopp's job is to get the base behind them right. Only then can they soak up pressure before hitting sides on the break. Only then can they play in the opponent's half without fear of being punished on the counter-attack. With Newcastle and Manchester United up next, both styles will be tested. With their strongest side, maybe Liverpool can still be confident.