Reds slammed over racism row
Liverpool and suspended striker Luis Suarez have been strongly criticised for their conduct by Kick It Out.
Last Updated: 05/01/12 6:38pm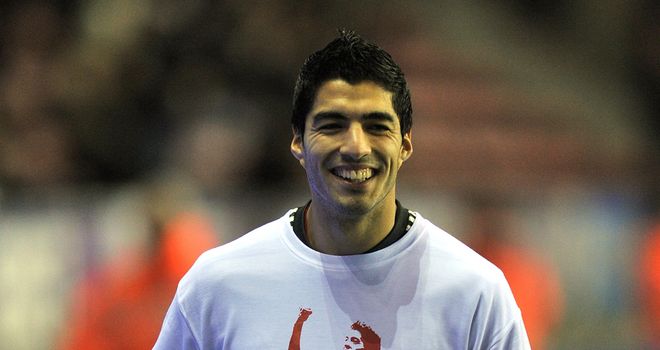 Liverpool have been fiercely criticised for their conduct in the racism row surrounding Luis Suarez, while the striker's apology has been viewed as unsatisfactory.
The Reds have decided not to appeal against the Football Association's eight-match suspension and £40,000 fine imposed on the Uruguay forward by an independent commission for his comments towards Patrice Evra in Liverpool's Premier League match against Manchester United at Anfield on 15th October.
Kick It Out chairman Lord Ouseley has described Liverpool players wearing T-shirts in support of Suarez as 'dreadful' and said the club need to take a hard look at themselves.
Suarez's apology stated: "I admitted to the commission that I said a word in Spanish once and only once. I told the panel members that I will not use it again on a football pitch in England. I never, ever used this word in a derogatory way and if it offends anyone then I want to apologise for that."
Suarez did not mention Evra by name in his apology, and previously said in a statement on Tuesday he would carry out the suspension "with the resignation of someone who hasn't done anything wrong" claiming the word 'negro' is a commonly-used word which does not show any lack of respect in his country.
Complaint
Lord Ouseley, who was chairman of the Commission for Racial Equality from 1993 to 2000, wrote in The Guardian: "Liverpool FC need to take a hard look at themselves and how they have responded to the complaint and the investigations into the allegations of abuse in the Patrice Evra/Luis Suarez case.
"Throughout the entirety of the proceedings, over the past three months, all we have heard are denials and denigration of Evra. Since the publication of the 115-page report of the findings of the FA's independent commission, Liverpool's vitriol has increased.
"Suarez's attempt at a belated apology is nothing short of lamentable. I cannot believe that a club of Liverpool's stature, and with how it has previously led on matters of social injustice and inequality, can allow its integrity and credibility to be debased by such crass and ill-considered responses."
Ouseley added: "Liverpool have been particularly hypocritical. You can't on the one hand wear a Kick It Out T-shirt in a week of campaigning against racism when this is also happening on the pitch: it's the height of hypocrisy.
"Liverpool players wore a T-shirt saying: 'We support Luis Suarez', seemingly whatever the outcome. This was a dreadful knee-jerk reaction because it stirs things up."