Reds respond to racism criticism
Liverpool managing director Ian Ayre insists it is 'utter rubbish' to suggest the club are not interested in the fight against racism.
Last Updated: 17/01/12 4:42pm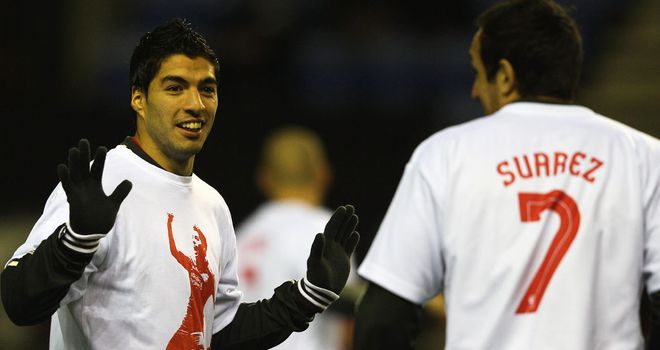 Suggestions Liverpool are not interested in the battle to rid football of racism have been described as 'utter rubbish' by the club's managing director, Ian Ayre.
The Anfield outfit have been widely disparaged for their support of Luis Suarez, who was banned for eight matches after racially abusing Manchester United defender Patrice Evra.
Liverpool's critics have been especially dismayed since the squad and manager Kenny Dalglish wore T-shirts backing Suarez in their match at Wigan in December.
The decision was taken as an indication of Liverpool's lack of concern regarding the wider issue of discrimination in sport and angered anti-racism campaigners such as Kick It Out.
But Ayre said on Saturday ahead of the Premier League game against Stoke, which will be the fourth match of Suarez's suspension after he decided not to appeal: "There has been a perception the club isn't doing what it should be doing.
"The players showed support for Luis, which was fantastic. But then some people interpreted that wrongly as the players saying they're not interested in the fight against racism.
"That is totally and utterly rubbish."
Penalty
Ayre also insisted Suarez continues to have the full support of Liverpool and hoped the punishment from the Football Association can eventually be forgotten.
But the Liverpool chief recognised the Uruguay international is likely to be a target for opposition fans when he returns.
"It will be tough, we shouldn't kid ourselves that opposing fans are going to give him the best of times, because that's the nature of football," said Ayre.
"But he will get 100 per cent support from Liverpool football club.
"Luis has come in for a lot of criticism. But we made a decision, Luis made a decision, not to appeal and the reason we did that was to move on.
"He also made a decision not to appeal the ban. Those things have been accepted and he is serving the penalty so we start afresh.
"The best way Luis can come back is to get on the pitch and score some goals and that's what everyone will expect of him."