Liverpool boss Brendan Rodgers hails 'world class' Luis Suarez
Liverpool manager Brendan Rodgers cannot hide his delight at the form of striker Luis Suarez.
Last Updated: 05/11/12 2:18pm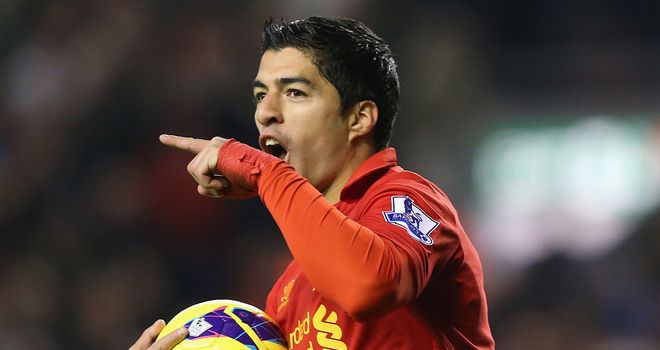 Rodgers was full of praise for his side overall following their 1-1 draw with Newcastle, but the Uruguayan - who scored a brilliant equaliser at Anfield - was the star performer and that was not lost on the Liverpool boss.
"It was a brilliant goal for Luis and a terrific performance and it bodes well for us going forward," said Rodgers - who insists he is not worried by a perceived over-reliance on the South American.
"It doesn't worry me. He gets picked to score goals but of course I would want them to be more spread out. Everyone knows that is the key feature for us. We need to get goals from other areas but I can't complain when we play to that level.
"Once we get that type of player in that is really going to finish off a lot of great work for us.
"We play him (Suarez) in that false nine role. He's not a traditional number nine who's up there, stood, static.
"That's why when we get a number of players in who can work off his qualities, that's going to make us a real threat. I ask him to get on the move and get defenders out of their positions.
"His cleverness and movement at the moment is world class. It's then important that we've got men running in off that. If we can add to the group, you can see the excitement in our team."
Even Newcastle manager Alan Pardew had to agree that Suarez was at the top of his game.
"Suarez is a top player. He caused us problems and when he plays the game in the right spirit he is a fantastic player," he said.