Brendan Rodgers says Luis Suarez's handball against Mansfield was not deliberate
Liverpool boss Brendan Rodgers denies Luis Suarez cheated during their 2-1 FA Cup win at non-league Mansfield.
Last Updated: 07/01/13 10:06am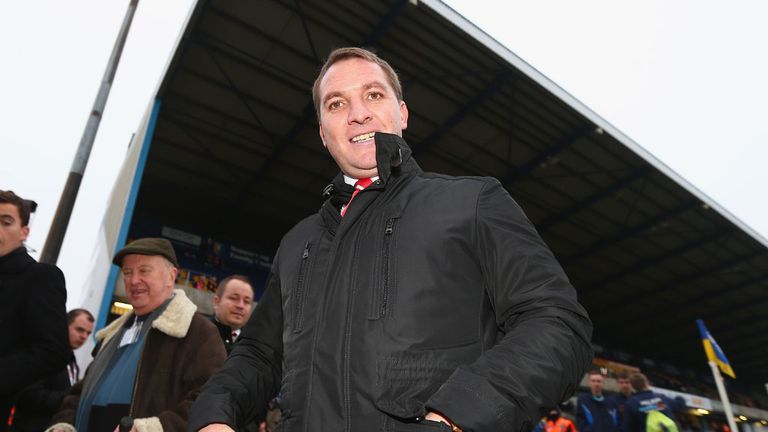 Debutant Daniel Sturridge gave the Reds an early lead before substitute Suarez appeared to handle the ball when he doubled the advantage, a goal which proved crucial when Matt Green pulled one back for Mansfield.
However, Rodgers pointed out that the officials saw the Suarez handball and ruled that it was not intentional.
"I've just seen it again and there's no doubt it was handball, but the referee and the officials ruled it wasn't deliberate," he said.
"I spoke to the fourth official when it was given because I couldn't see and he said it was (handball), so I can only assume they thought it wasn't deliberate.
"Obviously it was unfortunate for Mansfield and lucky for us that we got the goal, but it was a really professional performance from us."
When it was suggested that Suarez should have admitted the handball to the referee, Rodgers added: "It's not Luis' job to do that.
"It's not deliberate, as it's pushed up and hit his hand. It's up to the officials to decide that.
"That's why they get paid as officials and I thought Andre Marriner was brilliant today.
"Maybe when you lose the game you look back on it and think it was unfortunate. We missed many more chances to put the game to bed but we got a wee bit of luck there, so it's something we'll take and move on."
Stolen
Mansfield chief executive Carolyn Radford admitted the Suarez handball was difficult to stomach after suffering such a narrow defeat.
She said: "It feels a bit like it was stolen from us. Whether it was deliberate or not, it should be sorted out. It was very unfortunate referees and officials can't pick these things up. We should be at least having a replay."
Mansfield goalkeeper Alan Marriott did not blame Suarez for doing something that happens 'everywhere in the game', but could not believe the officials missed it.
He said: "When you see Luis Suarez laughing after kicking it over the line you're waiting for the referee to blow.
"But, on this occasion, the officials have missed it.
"I don't think you can call him a cheat because this is what happens everywhere in the game, same as in a Sunday league match, that if you can gain an advantage you do."