Liverpool's Joe Allen eyes chance to impress against Zenit St Petersburg
Joe Allen hopes to be given a chance to impress in Liverpool's Europa League tie against Zenit St Petersburg.
Last Updated: 14/02/13 3:59pm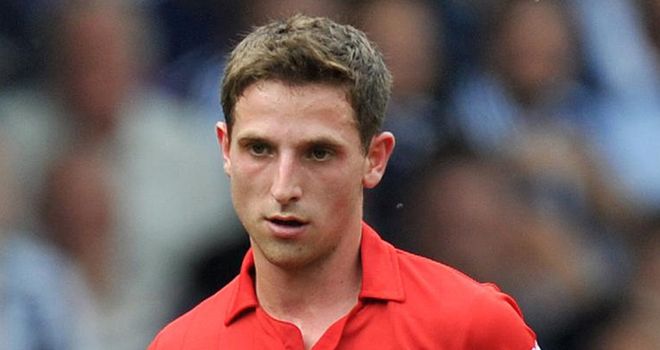 The 22-year-old Wales international started the Reds' first 17 Premier League matches after joining in the summer from Swansea but has only been included in the first XI for two of the last nine games following a dip in form.
Allen admits he has not performed well of late but is keen to make amends in the last-32 first-leg tie in Russia.
"My form hasn't been great, especially compared to the start of the season, but that is more down to myself," said Allen. "But I am looking forward to working hard and try to turn things around a little bit.
"I haven't played that much recently so any chance I get to participate then I'll be hoping to impress as much as I can and stake my claim.
"We were bitterly disappointed after Monday's defeat to West Brom, that goes without saying, but we have this tie to look forward to and refocus."
Having been eliminated from the FA Cup last month and falling further off the pace in the Premier League with the 2-0 home loss to the Baggies, Liverpool boss Brendan Rodgers says the Europa League has taken on extra importance.
Rodgers rested players in the earlier rounds of the competition but a near full-strength squad has travelled to Russia to face Zenit.
"It is a competition we want to do well in as it is the last cup competition we are involved in," he said.
"We have put a lot of work in during this competition in the early part of this season and I had it in my mind that when we qualified we could have a really good go at trying to win this competition."
Rodgers also expressed concern at the possibility his players could be subjected to racist abuse from the Zenit fans, who in December published a manifesto calling for sexual minorities and non-Europeans to be kept out of the St Petersburg club.
"I will make reference to it because we have players it maybe could affect but we are here for football," added Rodgers. "No-one in life wants to see anyone come under any sort of scrutiny like that.
"You go into the sporting arena and hopefully everyone from football, Uefa, referees and officials will support any player it may affect.
"There is no doubt if there is anything like that which is untoward then us as a group we will do everything we can to support the player or players.
"We hope it is a game where the officials and Uefa can take care of all that."