Rafael Benitez admits it will be an emotional return to Anfield on Sunday
Chelsea interim boss Rafael Benitez admits Liverpool is still his home - but claims he wants to beat them on Sunday.
Last Updated: 21/04/13 3:23pm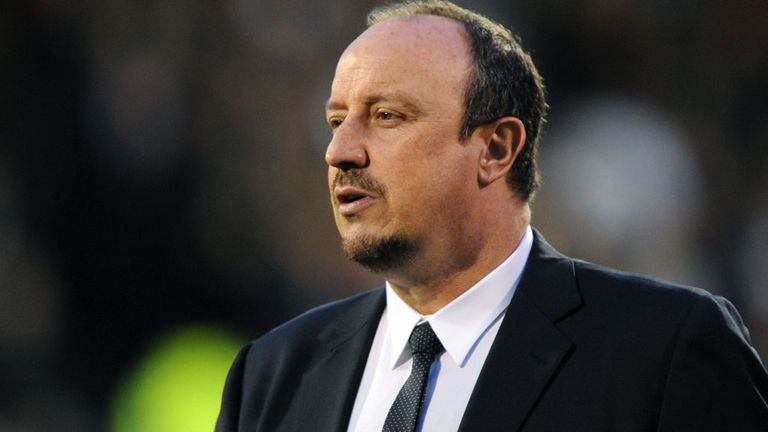 Benitez became a hero at Anfield when he guided the Reds to the Champions League in his first season at the club in 2005 and returns for the first time since his exit five years later.
And while the Spaniard acknowledges it will be an emotional occasion, he is targeting three points for his current club.
"I will try to do my best for the team and that is Chelsea," Benitez told the Daily Mail. "I am a professional and that is what I have to do.
"I cannot forget the time I spent there and the feeling, the atmosphere, the success, the link with the fans and the city - it is my home - but I will try to win. That is what I have to do.
"This will be quite emotional but I have to concentrate. It will not be easy when you see so many friends around but I will try to concentrate on the game.
"The players have to believe I can manage the situation and give them help if they need it. Normally, I am not too emotional but now I'm getting older it happens sometimes."
Benitez joined Inter Milan following his Liverpool exit in 2010 and briefly moved his family to Italy, but soon returned to the North West - much to the joy of his children.
"When we went to Italy, we had to decide whether to move the family or not," he added.
"In the end, we moved together but when we came back you could see the smiles on their faces, so that was enough.
"They have all their friends here and the little one thinks she is from Liverpool because she has been there all her life."
Flags
Benitez also defended the comments that have haunted his Chelsea reign - the claim ahead of the Champions League semi-final between the two clubs that Liverpool did not need plastic flags to support their team.
"I was just trying to encourage our fans, that's all," said Benitez.
"You try to create a good environment and if you remember in the Champions League semi-final, there was massive support from our fans for our players. It had to be like this.
"If you have a chance, now with Chelsea, you would try to do the same, for everyone, for the team.
"I've tried to bring everyone together here, supporting the team. I did the same there and I will do the same if I have to go to another team."