Jamie Carragher believes he is not ready to be a manager yet
Liverpool defender Jamie Carragher has admitted he is not ready to move into management when he hangs up his boots.
Last Updated: 05/05/13 10:36am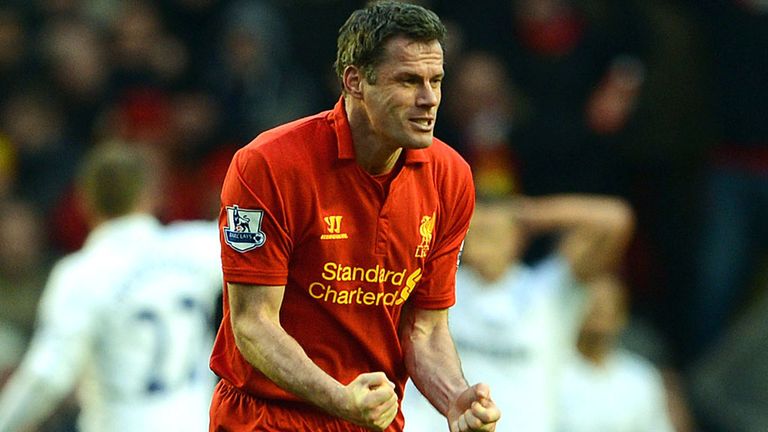 Carragher, who is retiring from football at the end of the season, has long been tipped to stay in the game in a coaching capacity at Anfield.
However, Carragher has opted to take a break from the game and has signed as Sky Sports' new pundit for next season.
The 35-year-old admits he may consider becoming a manager in the future, but he insists he is no rush to make the move having seen what the game can do to former managers.
"If you'd asked me at the start of my career I would have said I was going to be a manager," Carragher told the Daily Telegraph. "I may still be in future, but there seemed to be an expectation it was a natural progression for me.
"I'd read all the interviews with other players mentioning how much I love playing, watching, reading and talking about it and it seemed to make people just presume it would happen.
"It's not an easy thing to get into even if you want it. I always thought just because I love football, it doesn't necessarily mean I'm desperate to manage.
"The days of a top player walking into a major job are long gone. That's quite right, too. No one without experience has the right to go straight in. Players should do their apprenticeship. Sir Alex Ferguson made that point.
"You can mention Pep Guardiola but he's the exception and even he needed a break eventually.
"In the modern era, with the rewards the top players have during their career and the risks involved moving into management, more will look at it and say they don't need it.
"You have to remember how many hours these managers put in to get where they are. I have so much respect for all the top managers in the world for that.
"When you're a player at the top of the game it's a lot harder to find the motivation to follow that route if you have other opportunities there for you.
"I'm sure if I really want it I could go down the leagues and find somewhere but if it doesn't go well, what then? You have no experience, you're sent into this new world and then, before you know it, it's over and you're out."