Steven Gerrard wants Liverpool's owners to give Brendan Rodgers new contract
Steven Gerrard has called on Liverpool's owners not to waste any time in giving manager Brendan Rodgers a new contract.
Last Updated: 18/03/14 3:24pm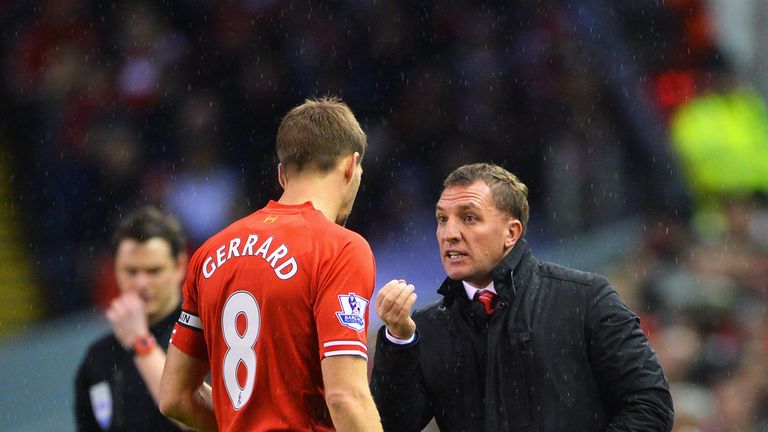 The Reds boss has just over a year left on his current deal at Anfield, although there is an option for a 12-month extension.
However, the 41-year-old Northern Irishman could be rewarded with a longer, more lucrative deal due to the giant strides made by his team this season, although he said recently that he was in no rush to enter talks over a new contract.
Liverpool find themselves in a Premier League title race less than two years after Rodgers took over with Sunday's 3-0 demolition of arch-rivals Manchester United at Old Trafford putting them just four points behind leaders Chelsea with a game in hand.
"Brendan has been a revelation. He keeps tinkering and tweaking formations, making little changes to personnel and pulls it off," said Gerrard.
"He is a young coach who has earned the right to become Liverpool manager and from week to week he is improving and he has been an absolute breath of fresh air to this club.
"I never judge a player, a manager or a member of coaching staff before I have actually met them face-to-face and when you see them day to day I have been absolutely blown away by the sessions, by his maturity in the job.
"I am learning off him every day. When you become a more experienced player you look to see how the manager does - if he does the same things.
"He has been fantastic for myself and I am sure the other players will echo what I am saying.
"We are absolutely delighted he is here and I just hope there is a lot of movement in Boston (the home of principal owner John W Henry) now as we speak because they have got to get him signed up as soon as possible.
"When players are in this situation with a year to go you want to keep hold of them so desperately, the club react really quickly and get it sorted, and for me I think he deserves a very long contract here and I think he is perfect for this club."
Rodgers faced a testing six months when he took over from Kenny Dalglish in the summer of 2012 but since January last year the club have been on an upward curve which shows no signs of slowing.
And Gerrard thinks the belief he has given the squad has been key.
"He manages every single player. He knows we have different characters in the dressing room," added the 33-year-old England captain.
"His one-on-one management is the best I have known. He makes you go out on to the pitch feeling a million dollars, full of confidence and belief.
"When you play for Liverpool you have to accept pressure, take it on the chin and perform, but when you have a manager who is making you feel good and who is not scared of giving you a good one-to-one telling off as well he has the perfect ingredients."
Gerrard also believes a tightly-knit squad is helping the Reds get through testing situations.
"The manager is very keen on team spirit, togetherness," said the midfielder.
"When you're working together and trying to achieve things together it's important you stick together and you laugh and enjoy it as you go along.
"But you can only get that togetherness and happiness when you do that dirty work, you work hard for each other and you go that extra mile and that is what these players are doing for each other.
"We have had our difficult times and at the moment we need to enjoy the way we are playing and try to continue it and try to bring success because that is how eventually we will be judged."